'Evo Triangle': Special unit call to tackle racing danger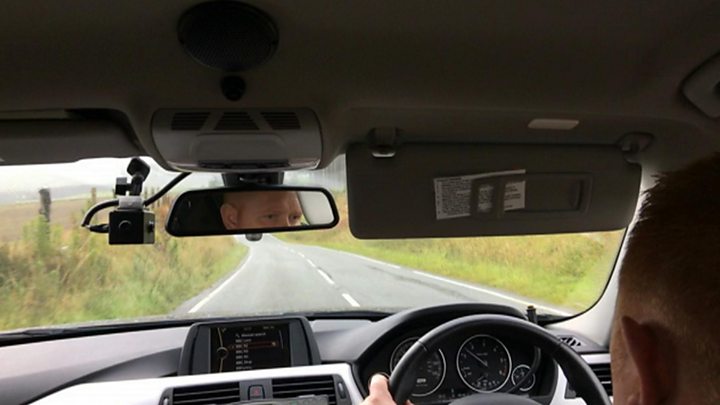 A dedicated unit is needed to tackle drivers using Welsh roads like a race track, an assembly member has said.
The so-called "Evo Triangle" has become a hotspot for high-performance cars in Conwy and Denbighshire.
Four people have been killed on the Evo in the past five years - and 20 injured.
Police told BBC Radio Cymru's Manylu programme that they are already working with local authorities and the government to halt the racing.
The three roads which make up the triangle connect Llyn Brenig, Pentrefoelas and Cerrigydrudion villages, and have long been used by motoring magazine Evo to test cars.
Its use by the public has increased over the past few years as drivers share their exploits through social media by posting videos of their trip - some driving dangerously as they race around the loop.
This summer, 21-year-old Shaun Goldstraw, from Leek in Staffordshire, was jailed for eight years for causing the death of Tracy Hayley and Darren Lowe from Bagillt after "using the road as a race track".
"There should be a unit - not necessarily just within North Wales Police because it's a wider problem in general. Certainly the Home Office in Westminster needs to consider its role here," said the North Wales AM, Llyr Gruffydd.
The unit could be dedicated to monitoring social media and tracking comments and videos posted online about the Evo route, he argued.
"When they see people encouraging what shouldn't be encouraged, the police could then leave comments themselves on these websites saying 'we see what you're saying, but remember that if you speed or drive dangerously then we will prosecute you,' so these people don't come here in the first place," added the Plaid Cymru politician.
On Wednesday, a Porsche driver caught speeding at 97mph (156km/h) on the Evo was given a £1,500 fine by magistrates in Mold and banned from driving for 56 days.
In response a Welsh Government spokesman said: "We have established a road safety practitioners group to consider the issues at this location.
"That group has produced an initial report which we are currently considering, including any engineering improvements that may be required."
The Home Office said: "Enforcement of road traffic legislation and the investigation of road traffic incidents are operational matters for the police, using their professional judgement."
Manylu is broadcast on BBC Radio Cymru at 12:30 BST on Thursday, 12 October, and again on 15 October at 16:00 - or you can listen again on the BBC iPlayer.