Blaenau Gwent homes cheapest per sq m in England and Wales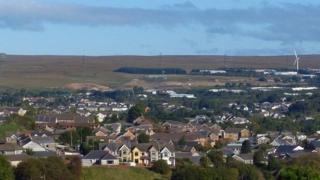 Blaenau Gwent homes are on average the cheapest per square metre in England and Wales, new figures have shown.
Homes in the south Wales county were worth £777 per sq m in 2016, versus £19,439 in the most expensive council area, Kensington and Chelsea.
The Office for National Statistics figures showed the average home in Wales was worth £1,408 per sq m, compared to £2,463 in England.
The most expensive place to buy in Wales was in Cardiff.
Steve McPherson, the owner of Louvain Properties, an estate agents which covers Blaenau Gwent, said the reason prices were so low in the region was because of general poverty.
"There's a lack of jobs in the area and a big benefits culture," he said.
"Those who do work are generally on zero-hours contracts, so don't have the stability or wages to get a mortgage.
"Others prefer not to work, so they rent as well, with the help of housing benefit.
"There is some movement in the market with landlords buying property to rent out, but many people lack the inspiration or means to buy their own place."
But Stephen Evans, from Tredegar, who works at the Ebbw Vale Institute, said there were plenty of reasons to live in Blaenau Gwent.
"It is a safe place to live compared to other places," he said.
"There should be more tourism here but you only have to walk 300 yards (274m) to be in beautiful countryside and it is quite a startling effect to see. It is a completely different world up in the Brecon Beacons."
The figures also revealed the average price per sq m in Wales had risen by 28% in the last 12 years, while in England it had gone up by 44%.
Merthyr Tydfil (£917 per sq m) and Neath Port Talbot (£984 per sq m) were also among the cheapest areas in England and Wales.
The most expensive homes in Wales were found in Cardiff, at £2,161 per sq m. Monmouthshire was the second most expensive at £1,956.
The ONS data also found new flats in England and Wales got 18% bigger in the last three years, while new houses remained around the same size.
It comes after a new Principality index showed the average house price in Wales was now higher than in 2007, before the slump caused by the financial crisis.
Tom Denman, chief financial officer at the Principality, said at the time that, while Wales' house prices have "steadily increased" over the last four years, there had not been "that real accelerated growth or spikes in growth" seen elsewhere.