Call for councils to share costs and services in Wales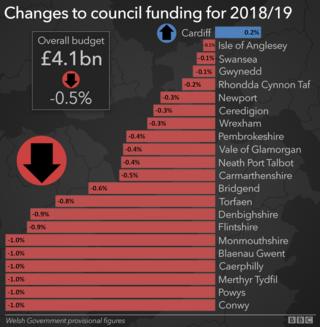 Councils will have to be more creative and innovative to provide public services against a backdrop of future budget cuts, an expert has said.
Dr Marlene Davies, an associate of the University of South Wales, said some services were "down to the bone".
Her comments come as councils face cuts of 0.5% next year and 1.5% the year after.
She said authorities would have to find new ways to operate, such as sharing more services and costs.
The local government expert explained that core services, like education and social services, could not be reduced so authorities would be looking at how they can provide them in an "innovative and, perhaps, more creative manner".
'Shutting down services'
The Welsh Government has allocated a top-up for schools and for social care worth £62m and £42m respectively but that means councils will need to make cuts elsewhere.
"Creative service provision" and shared services were an option, Dr Davies told BBC Radio Wales' Good Morning Wales programme.
Some councils have already handed over facilities and services - like running leisure centres - to private firms or community groups to cut their own costs and financial responsibilities.
Welsh Local Government Association finance spokesman Anthony Hunt said continued cuts meant something would "have to give".
But Wrexham council leader Mark Pritchard has gone one step further, saying it was "looking at closing down and shutting down services".
He said the authority had saved £50m since 2008 and needed to cut a further £12m over the next two years.