'Urgent shortage' of radiologists in Wales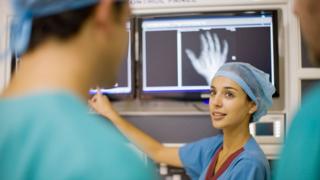 The proportion of vacancies for radiologist jobs in Wales has more than doubled in a year, says the Royal College of Radiologists.
Its latest workforce report said it "simply does not have enough" radiologists in Welsh hospitals.
The proportion of vacant Welsh posts rose from 6.9% in 2015 to 13.1% in 2016.
The Welsh Government said it recently set up an academy to help address the "challenges" facing radiology.
The RCR said there was an ongoing crisis, with continuing problems filling consultant posts and a third of consultants preparing to retire.
Its latest workforce census found Wales has the equivalent of 152 full-time radiologists, however hospitals spent £4.5m to cover shortfalls.
It said this same amount could have paid for at least 50 more consultant doctors to help speed up scan results.
Dr Toby Wells, RCR Welsh secretary and a Swansea-based radiologist, said the work was fundamental to speedy diagnosis and treatment of conditions from cancer and stroke.
"Radiology training numbers have been increasing, but that increase needs to be sustained and increased even further to both fill empty posts and meet the ever-increasing demand for scans and specialist treatment such as that for stroke," he said.
A new National Imaging Academy Wales is planned to increase radiologist capacity in the long-term.
Bur Dr Wells said this would not help fix the urgent shortages faced now.
"It takes at least five years for doctors to qualify as radiologists, so the situation is likely to get worse before it gets better and ultimately we need more doctors to realise the potential benefits of the academy."
A Welsh Government spokesman said: "There is a shortage of radiologists and radiographers across the UK.
"In July we announced the creation of a new academy to train the next generation of radiologists and imaging professionals in Wales.
"It is being established with £3.4m funding from the Welsh Government and will allow for an increase in the capacity to train clinical radiologists. It is expected to be operational by mid-2018."