Wales Book of the Year 2017 shortlist announced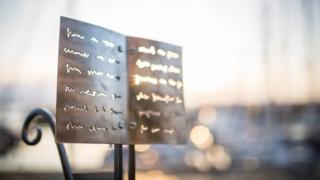 The shortlist for the Wales Book of the Year awards for 2017 has been announced.
There are 10 prizes on offer for works of fiction, creative non-fiction and poetry in English and Welsh.
As well as awards in those three categories, there is also a People's Choice winner and an overall winner in both languages.
The winners will be announced at a ceremony in Cardiff's Tramshed on 13 November.
The awards are organised by Literature Wales, but in June it was announced that responsibility for them will be transferred to the Wales Books Council.
They are being held later this year after a review published in April recommended organisers streamline the judging process, explore new financial options and consider ways of making the awards night part of a bigger event.
The main prizes in the 2016 awards were won by Thomas Morris for his short story collection We Don't Know What We're Doing, and Caryl Lewis for her novel Y Bwthyn.
English language shortlist
The Roland Mathias Poetry Award
What Possessed Me by John Freeman
The Other City by Rhiannon Hooson
Psalmody by Maria Apichella
The Rhys Davies Trust Fiction Award
Pigeon by Alys Conran
Cove by Cynan Jones
Ritual, 1969 by Jo Mazelis
The Creative Non-Fiction Award
The Tradition by Peter Lord
Jumpin' Jack Flash by Keiron Pim
The Black Prince of Florence by Catherine Fletcher
The judges for the English prizes are author Tyler Keevil, academic Dimitra Fimi and poet Jonathan Edwards.
Welsh language shortlist
Poetry Award
Chwilio am Dan by Elis Dafydd
Llinynnau by Aled Lewis Evans
Bylchau by Aneirin Karadog
Fiction Award
Ymbelydredd by Guto Dafydd
Iddew by Dyfed Edwards
Y Gwreiddyn by Caryl Lewis
Creative Non-Fiction Award
Gwenallt by Alan Llwyd
Optimist Absoliwt by Menna Elfyn
Cofio Dic, Idris Reynolds
The judges are critic Catrin Beard, author and poet Mari George and bookshop owner Eirian James.
The winners of each category will receive £1,000, while the overall winners will get an additional £3,000.