Graduates of Welsh universities 'lowest paid in the UK'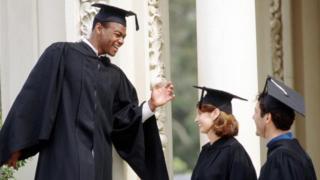 Graduates from Welsh universities are on average the lowest paid in the UK, a new survey has suggested.
Almost a third in full-time employment earned less than £21,000 three and a half years after leaving Welsh universities.
The study showed only 21.2% from England's universities in the same boat.
The Welsh Government said it reflected wage levels in the country.
It added that employment rates from Welsh universities were "very strong".
The data comes from the Destinations of Leavers from Higher Education survey, by the Higher Education Statistics Agency (HESA), which questioned students who have left university and gone into employment both in the country where they qualified and elsewhere.
It had about 5,000 respondents from a possible 15,000 graduates who left Welsh Higher Education Institutions (HEIs) in 2012/13 - a response rate of about 39%.
The report said 67.6% of the 2012/2013 graduates from Welsh universities were earning above £21,000 per year - the minimum required to begin student loan repayments.
By contrast, 78.8% of graduates from English HEIs secured salaries over this level, with the equivalent figure for Scotland 78.2% and 69.1% in Northern Ireland.
The figures also showed 80.8% of graduates from Welsh HEIs who responded to the survey were in employment after three and a half years, versus 81.8% from English institutions.
The Welsh Conservatives' education spokesman, Darren Millar, said: "Under Labour, Wales has the lowest take-home pay in the UK so it's no wonder that Welsh graduates are being paid less than elsewhere.
"The Welsh Government must work with the private sector to grow the better-paid private sector jobs that our graduates need or the brain drain to other parts of the UK will continue."
Fears were raised in August that more graduates may have left Wales than arrived between 2013 and 2016, a situation Andrew Henley, an economist at Cardiff Business School, described as "really quite worrying".
Dominic Booth, 24, is a Cardiff University postgraduate from Manchester. After graduating in 2014 he worked at a newspaper in Weston-super-Mare, and is now a sports writer for Wales Online, where he earns £18,000 a year.
"A lot of graduates just aren't getting their value for money," he said. "I've done quite a specific degree so I'm not exactly getting lots of job offers.
"The cost of living is lower here. It's possible that, if I was living in London I'd be paid more as the cost of living is that much higher, but I still don't think I'd be getting a good value for money."
A spokesman for Cardiff University said they had a "significantly higher" than average number of well-off graduates, with 95% employed or studying six months after graduating.
"An average of 80% of our graduates earn more than £21,000 three and a half years after graduation, according to the latest figures," they said.
"As a university we are committed to supporting the employability of our students throughout their time, ensuring that degree programmes and extra-curricular opportunities provide the experience, skills and attributes that employers are looking for."
Andrea Powell, 26, from Ross-on-Wye, Herefordshire, graduated from Aberystwyth University in 2013. She is earning £15,000 per year as an accountant in the Ceredigion town.
"I'm not surprised that Welsh universities have the lowest-paid graduates," she said.
"I think the universities are less highly-regarded than other English universities within the work place."
Nick Saunders, 22, from South Staffordshire, graduated from Aberystwyth University this year. He now works in a temporary admin position at a stock transfer company.
"I'm paid weekly, £8 an hour, which is actually less than I earned when I used to work for a recycling plant before I graduated," he said.
"From my experience at Aber, I know more people who've gone into temp jobs or services than those who've gone into what you might call a 'graduate' position."
Responding to the survey, the Welsh Government said it only had a "small sample size".
A spokesman added: "As well as reflecting wage levels, which are understandably lower than in other wealthier parts of the UK, the statistics also show that employment numbers for graduates in Wales are very strong and that more than half of the graduates from our universities choose to stay here after completing their degrees."