Monmouthshire and Newport get 30 new electric car points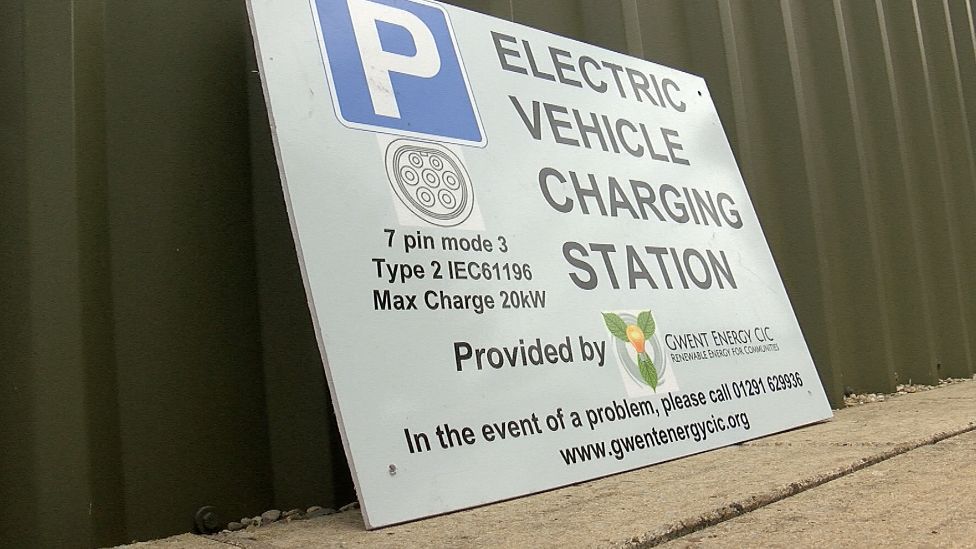 The number of public electric car charging points in Monmouthshire and rural Newport will more than double in the next few months.
A new scheme will provide free installation to 20 businesses, thanks to funding from the EU, Welsh Government and Monmouthshire council.
Ten more will be installed in most Monmouthshire town centre car parks.
That means the number in those areas will jump from 21 to 51, according to charge point website ZapMap.
In February, calls were made for the Welsh Government to help introduce a network of rapid-charging points for electric cars throughout rural Wales.
Mark Lloyd, of Monmouthshire council, told BBC Radio Wales' Country Focus programme the new project will provide 12 months' use of the 3kW charging points for free before businesses decide whether to keep the service for their customers.
"With the government announcement about banning the sale of petrol and diesel vehicles from 2040, although it's a long way off, I think you can see the impetus is really growing and there's a lot more take-up of electric vehicles and so there's a lot more demand for charging points."
Mr Lloyd said the £20,000 cost of the scheme is 80% funded by European and Welsh Government money, with Monmouthshire council covering the rest.
Not-for-profit firm Gwent Energy will install the charge points and monitor them.
Phil Powell, from the firm, said most of the new sites would take several hours to fully charge a vehicle and, while there are faster chargers available, their cost can sometimes be prohibitive.
"We've found a range of businesses to try it in different locations so we can learn from it, where they're best suited," he added.
Jane and Trevor Jones, who run a caravan and camping site near Caerleon, Newport, are among the business owners benefitting.
"I think it will increase our numbers - it's surprising how many people come to this area. The electric cars that do turn up tend to be from the south east of England and they're desperate to find a hook up point," Mr Jones said.
Lynne Colston and her partner Steve Smith, who live near Brecon, in Powys, lease an electric car for about £300 per month.
They said it provided good value compared to their previous vehicle, but they do have to plan their journeys more carefully as the car only has a 120-mile (193km) range.
Mr Smith said: "Longer journeys you do keep looking at the range, it does maybe affect how you drive - it calms you down a bit to try to get more miles out of it."