Cycle routes in Wales 'need to be safer and connected'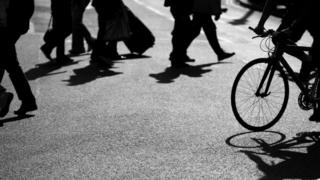 There are calls for safer and better connected cycle routes in Wales to encourage more people to take up cycling.
New figures showed just 5% of adults cycle for active travel at least once or twice a week compared with 61% of adults who walk.
Sustrans Cymru said safety concerns deter people from cycling, and routes "need to be attractive and connected".
The Welsh Government said active travel was being built into many projects.
The figures, published by the Welsh Government, were collected through the National Survey during 2016-17.
Active travel is measured as walking for at least five minutes or cycling to get to a particular destination.
The statistics also showed 3% of adults cycled at least three times a week for active travel a week but the numbers who walk that frequently is much higher at 47%.
Natasha Withey, from Sustrans Cymru, said the "significantly lower" proportion of people who cycle could be due to "a number of factors".
"We know that safety is often a concern that deters people from choosing to cycle," she said.
"Our Bike Life study in 2015 revealed 82% of residents in Cardiff alone wanted better safety in order to get them cycling. Better safety requires more investment.
"To encourage more people out of their cars and using bikes for local journeys, people expressed a need for more protected bike lanes and traffic-free routes.
"Cycle routes need to be attractive and connected; transporting people safely from their homes to popular places of interest, work and education.''
In 2013, the Active Travel Bill was introduced to encourage more people to walk or cycle rather than using a car.
And Cardiff is aiming to become one of the UK's leading cycling cities by 2026.
A Welsh Government spokesman said the "pioneering" bill had "received international praise" and would have "a real and lasting impact on encouraging and facilitating active travel".
He added: "Many schemes across Wales have already benefited, with active travel now built into projects so that it's a regular part of new developments as opposed to being treated as an additional consideration or cost.
"Designated cycle lanes, increased bicycle storage and better integrated routes all form part of this vision and, alongside our continued efforts to promote the benefits of both cycling and walking, will help put in place the infrastructure for active travel to be increasingly considered as reliable and regular modes of transport."
Sustrans has previously highlighted that employees could save up to £1,000 a year by not driving to work.