Welsh peatland to get £1m fund for restoration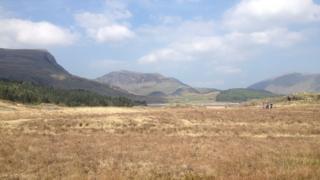 Important peatlands across the whole of Wales are to get £1m in funding to help restoration.
The Mawndiroedd Cymru (Wales' Peatlands) project will help train land managers to conserve the delicate environments.
Funded by the Welsh Government, the project will now appoint three officers to oversee the work.
Backers said it will ensure the 173,000 acres (70,000 hectares) of the land will have a "prosperous future".
"Peat restoration is beneficial to all elements of today's society as it reduces carbon emissions, improves water quality and improves river management," said Rhys Owen, the head of agriculture and conservation at the Snowdonia National Park Authority.
"In addition, it will assist land managers in improving grazing opportunities, it will retain the distinctiveness of our historic landscapes and preserve prehistoric features."
The project is being led by the Snowdonia and Brecon Beacons National Parks, with both the National Trust and Natural Resources Wales as partners.
The project hopes to become a national hub for research on the peatlands, and to drive investment in the areas as part of the UK Peatland Code programme.