Cardiff woman whose charity drove aid into Croatian warzone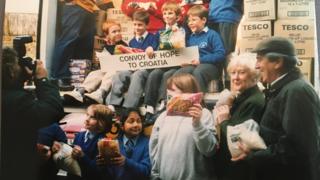 On one trip, Irene John saw a mass grave - each person was clutching X-rays to their chest.
They had been told they were being moved from one hospital to another and had to bring their medical records. Instead, they were taken out into the street and shot.
In another village the streets were lined with crosses - people had been crucified. It was a horrendous time, but one Welsh woman risked her safety on 43 occasions in order to help others.
Croatia today is a popular and beautiful tourist destination, but it was only 26 years ago, on 8 October 1991, when it declared its independence from the crumbling conglomerate state of Yugoslavia.
It took another four years - and a bloody war - before they were able to fully establish themselves as a nation away from Serbian rule.
The conflict was deadly and damaging. More than 20,000 people were killed and 10 times that number were displaced from their homes.
Thankfully, Croatia has now recovered and is thriving, helped in part by the efforts of ordinary people who gave their time and effort to take aid to people struggling during the war.
One such person was Miss John from Penylan in Cardiff, whose story began in 1993 when a friend paid her a visit one evening.
"I hadn't seen him for a long time and in he came and said 'I've come to tell you what I've been doing: I've been on a convoy to Croatia'," said Miss John, now 76.
Her reply? "Where's Croatia?"
Miss John, after listening to her friend, decided she wanted to help. All she needed was the small matter of a van, a co-driver, medicine and food as well as £500 for the journey.
Determined to go, she quickly raised the £500 with the help of the Townswomen's Guild, who also provided her with food and medicine. The Post Office lent her a van.
By September 1993, she was joining the Convoy of Hope en route to the Balkans, but it was tough going: "They were very good at organising things but after I came home from the second time a friend of mine said 'you look dreadful'. That was when I thought I could organise this better myself.
"We didn't have any true sleep because we slept on tins of beans in the vans. I thought 'people are coming on this convoy, they're raising the money, they're filling the vehicles, they deserve to sleep in a bed each night'."
Wanting to take control of the situation, she set up and registered the charity Care Cymru and began planning and leading convoys across the continent herself.
Miss John was responsible for negotiating the borders on the three-day drive, which proved particularly difficult in Slovenia, another former Yugoslavian republic.
"Slovenia was unhappy about a lot of aid going through because they were also experiencing some of the war situation. Sometimes they'd keep you waiting for six or seven hours not allowed to go through and I thought: 'I've got to do something about this.'
"Every time you went into customs or the police they always had football on. I couldn't believe it so I decided I better know a bit about football and tell them about Manchester United and Arsenal. You could see them relax and become not as dreadful as they were after that."
"We wanted to take the aid to where it was needed. We weren't going to take it to warehouses, we wanted to go to refugee camps or villages which had been bombed out.
"We also went to a home for disabled people. They were taken there at the age of two or three and left there and never saw their families again. I'd been a social worker for a long time and wanted to see what was happening on the wards.
"It was a sort of grim castle and you could smell the place before you got near it. The patients never saw anyone else - they wanted to come up to me and stroke my face to see if I was real. It was a very moving experience."
Miss John wrote to makers of pens and pencils for schools and, in one particular village, asked for tools so people could rebuild their homes.
Fighting was still rife at this time and the motorway between Zagreb and Belgrade remained closed for several years.
When it finally reopened, Miss John was there with a group of schoolchildren from Dowlais Top who had "never been out of Merthyr Tydfil, let alone the country" who got to witness the country as its citizens rebuilt it.
Miss John had to stop driving convoys in 1997 after suffering a heart attack on one journey. She was taken to the Royal Berkshire Hospital as the convoy left and was picked up and taken home on their way back. But that did not stop her appetite for helping the Croatians.
One time, in the town of Vinkovci, the rebuilt English language school wanted its front door to replicate that of 10 Downing Street in order to pay homage to Miss John and her team from Great Britain.
After a wild goose chase across the media and Downing Street, she was eventually put through to the prime minister's secretary, who asked her if she would like to speak to Tony Blair.
Her response? "I'd love to but I haven't got time!"
Another prime minister inadvertently helped her out of a sticky situation in Croatia.
Stranded by a United Nations roadblock, Miss John stepped out of her van in a blue suit and her blonde hair tightly curled.
She walked up to the soldiers, passport in hand, and said: "Don't you know who I am? My name is Margaret Thatcher and I am the British prime minister. If you don't move this straight away I will want to see your superior officer."
She said this prompted the soldiers to stand aside and let them through.
Despite the horrors she witnessed, the heart attack and negotiating minefields, Miss John said she was "just doing what had to be done".
She describes herself as ordinary - her story is anything but.