Cardiff mother wins premature baby care changes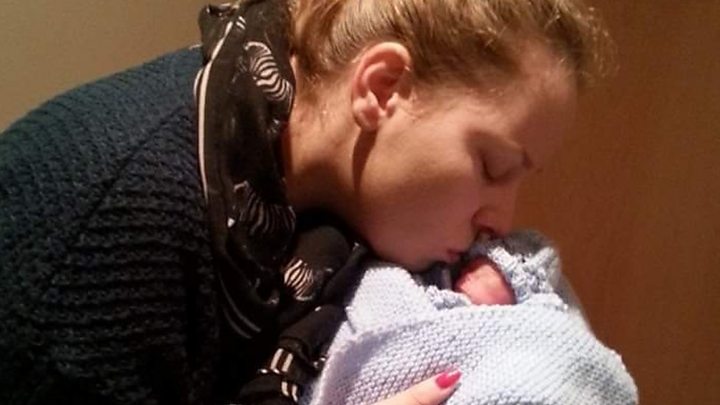 New guidance is being issued to health professionals caring for very premature babies following a mother's campaign.
Emma Jones has been seeking changes following the death of her son, Riley, born at 22 weeks in December 2013.
The 26-year-old from Cardiff found there was not any professional guidance stating what care the NHS should offer for babies born alive before 24 weeks.
The Welsh Government said it had worked with Ms Jones to provide advice to hospital staff and support families.
"From Riley's death came a fight for change, which ended in success," said Ms Jones, whose campaign began with a petition presented to the assembly in 2014.
The Welsh Government is now advising health boards that where the birth of a baby on the "threshold of survival" is anticipated or occurs, maternity teams should consult an on-call neonatal or paediatric team to ensure clinical assessments are planned and undertaken.
It also recommends the baby's family should be involved in the decision-making process about ongoing care.
Now every health board in Wales has a midwife who takes the lead on bereavement support.
'Painful experiences'
Wales' chief medical officer Dr Frank Atherton said they recognised there was a need to develop additional guidance.
"When a baby is born very early, parents and professionals are faced with difficult and distressing decisions," he said.
"We are very grateful to Emma Jones for sharing her painful experiences with us and for working with us to develop the new guidance which will help maternity services to support sensitively mothers and families where babies are born on the threshold of survival."
'My baby was not treated like a human being'
When Emma Jones' son Riley was born, he was not checked over by medical staff and was not weighed.
His parents cradled him and begged for help but the midwives did not intervene.
He was born so prematurely - at 22 weeks and four days - there were no guidelines for hospitals on how to deal with him.
As a result, Ms Jones said her son was not treated as a human being during the 93 minutes he was alive.
It devastated and shocked her so much that it spurred her on to campaign for change.
"My first baby was stillborn in 2012 so when I went into very early labour with Riley, I expected he would be too," she said.
"But when Riley was handed to me, he was breathing and that was a shock.
"He was tiny but perfectly formed - all his features were there, he was just half the size of a normal newborn and fitted into the palms of my hands."
But when none of the medical staff intervened, her partner, Christopher Goodger, ended up pacing the hospital corridors asking for someone to help.
"We were completely ignored. We were hysterical.
"They kept saying that because he was so premature, they couldn't do anything, they couldn't touch him.
"It was only after he died that a midwife weighed him."
Ms Jones said she could not get over what happened and decided to press for change.
"I had to do something because what we went through was horrendous.
"It has been a very long process and I've had to speak to doctors and politicians even before I got through to the Welsh Government.
"But so many women have got in touch with me from around the UK to say the same thing happened to them.
"I can't express how glad I am that these changes have been brought in. It brings me to tears - I always wish that someone had done it so it would have benefitted my Riley.
"Now I have done it and it will help other babies. I know not all will survive but if it just helps a few, it will be worth it.
"And even if the babies don't survive, they all deserve to be treated with respect and their parents given the help and support they need."