Cynan Jones penned award-winning story in his mum's shed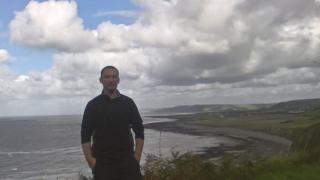 Like the short story that landed him a BBC literary award this week, Cynan Jones is just about as stripped back as it gets.
The Welsh author lives in a log cabin he built himself, has driven the same car for 14 years and writes, in longhand on an A4 pad, in his mother's garden shed.
Unsurprisingly, he expects the £15,000 he picked up with his BBC National Short Story Award for 2017 for his work, The Edge of the Shoal, to last him and his family "at least a year, maybe two".
Jones's wealth, he said, lies in the natural landscape that surrounds him in his home town of Aberaeron, Ceredigion.
"When I am in need of inspiration for my writing, I step out of mother's shed and walk 50 metres to the edge of a cliff where I can be immersed in this extraordinary Cardigan Bay landscape," says Jones.
"All of my stories have grown out of this landscape," he said.
"The idea for The Edge of the Shoal came from sitting on the edge of that cliff and looking out to sea.
"I thought, what would happen if I cast a man out there in a boat? The story was built in my mind while I sat there."
The story began as a 30,000-word novel but was "shaved down and shaved down" to 11,500 words because, Jones says, "it didn't work".
The abridged version was liked by US literary magazine The New Yorker but was still felt to be "too long". Could he halve it? the magazine asked.
"So I had four days to more or less halve a story I wouldn't have wanted anyone to cut by a single word," he says.
"I considered a stiff drink while I contemplated the task, but you can never drink and write.
"So I worked frenetically for four days, stripping out anything that was decorative and the result was a story that has now punched its weight in this BBC competition.
"The task was very intense, but it was exciting. As I tweaked and smoothed, I thought 'this is it, I'm off the bench'."
Jones says he is used to writing fast. His first novel, The Long Dry, weighed in at 28,000 words, but was written in under two weeks.
"When I sat down in my mum's old shed to write The Long Dry, I completed it in just 10 days."
"Of course, the novel had already grown in my mind over months, maybe years, without me actually putting pen to paper.
"I was working as a mentor to a child at a local pupil referral unit and before that I'd fulfilled a childhood dream of working at an aquarium. I'd also been a supply teacher and a freelance copywriter in Glasgow, churning out copy about tubular steel and bank rebrands. There was not a lot of romance in it.
"I knew I didn't want to be a 44-year-old man who blames his wife and kids and his job for never writing a novel, so I quit my job at the age of 28 and stuck to my guns.
Now aged 42 and married - he tied the knot with wife Charmian last year after a 19 years together - he still favours his "quick, intense" method of writing, preceded by lengthy immersions in the west Wales landscape.
"When it's time to write, I take myself off and work just as frenetically, more often than not until five in the morning, when I'll crawl into bed for a few hours sleep before starting again at 10am.
"I'll turn my phone off, ignore the post and do nothing but write. My wife sees it coming and keeps away until it's done. Usually, the writing process takes no more than three weeks for each novel."
As his currency grows in the literary world, Jones insists the riches he now stands to earn will not change his lifestyle.
"I live in an extraordinary area - that's how I measure my wealth. The rest of it, we do not need. I've had the same car for 14 years [a Peugeot 307], though the garage tells me it will fail its next MOT, and I built our log cabin where we live. We don't have iPods or iPads or digital TV and we have no need to."
Not that Jones doesn't appreciate the £15,000 prize money he won at the award ceremony in the BBC's Radio Theatre in London on Tuesday.
"The money is what we normally spend in a year, maybe two, to live, so this cash will buy me time to write and that's the best kind of payment a writer can be given," he says.