History and geography teaching praised by Estyn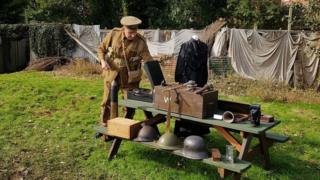 Role play as wartime evacuees and planning an Antarctic expedition have been highlighted as good examples of teaching humanities by inspectors.
However, most primary schools have not given enough priority to the humanities due to the strong focus on boosting literacy and numeracy, said Estyn.
Schools known to have strengths in geography and history were visited.
Inspectors found understanding of Wales and its place in the world was strong in most schools.
But it was weaker in teaching at GCSE level.
Some of the imaginative approaches to history and geography include:
"Learning blocks" across different subjects at Bishop Gore school in Swansea, where pupils work on particular themes such as planning an Antarctic expedition
Elfed High School in Buckley - numeracy skills were brought into teaching history, such as pupils weighing water bottles to replicate the weight of a WW1 soldier's backpack
Ysgol Gynradd Llanllechid, near Bethesda, held a "quarry stuff and stories night" to encourage pupils to learn and teach each other about local history
Garnteg Primary School, Garndiffaith, Torfaen - pupils dressed up in WW2 fashion as part of a community day with the local history society
Pupils at Rhiwbeina Primary School in Cardiff included experiencing the plight of WW2 evacuees through role-play by taking a train journey to a local church hall to be billeted. Local people who were evacuees also shared their experiences
'Skilful blend'
The report also said that most secondary schools where good practice was seen made "appropriate links" with Welsh history or geography.
In history, this may include learning about significant national events such as the Aberfan disaster.
In geography, pupils were encouraged to explore local issues, such as flooding in Towyn and Rhyl.
There was also mention of a primary school in Swansea, where pupils spent 10 weeks with their classroom at the National Maritime Museum.
Nearly all pupils in the 19 schools visited showed "strong levels of engagement", with many highly motivated.
Estyn chief inspector Meilyr Rowlands said: "Good practice identified in this report includes school leaders who understand the role of the humanities in a balanced curriculum and teachers who skilfully blend the development of subject knowledge and skills, use a wide range of resources, and make effective use of the local area."
Nearly all schools were aware of the planned new curriculum but the report said many secondary school leaders were reluctant to make significant changes to teaching the humanities until they fully understand how it will impact on GCSE qualifications.