Hedd Wyn video installation on National Library of Wales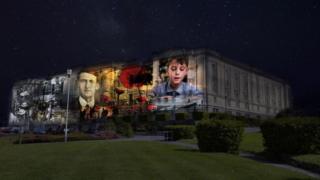 A video commemorating the centenary of the death of Welsh World War One poet Ellis Humphrey Evans is to be beamed onto the National Library of Wales.
Better known as Hedd Wyn, Evans was killed on the opening day of the Battle of Passchendaele in 1917.
Yr Arwr (The Hero), a poem he finished just before his death, posthumously won him the Bardic Chair at the National Eisteddfod later that year.
The video installation will take place during the week of Armistice Day.
The National Library of Wales, in Aberystwyth, and the Snowdonia National Park Authority, which maintains Hedd Wyn's family farm as a museum, have collaborated in a year-long education outreach programme bringing the poet's story and his work to life.
'Thrilling conclusion'
Their work has included delivering 26 workshops to more than 800 school children and adults, and the distribution of 3,000 copies of a specially-created booklet on Hedd Wyn's legacy to primary and secondary schools across Wales.
The project will culminate on 9 November - two days before Remembrance Day - with the video installation.
Pupils from Ysgol Bro Hedd Wyn will read his most famous work, Rhyfel (War), for the piece which will include footage from the poet's home and images relating to both him and the wider Welsh experience in World War One.
A spokesman for the Snowdonia National Park Authority described him as "a symbol of a generation of Welshmen" killed during the war.
He added: "During the centenary year of Hedd Wyn's death, it has been our privilege to work with the National Library of Wales and the ScottishPower Foundation, using our collections to bring the story and legacy of Hedd Wyn to life for a new generation of young people, who will be the future custodians of our heritage and of peace."
Linda Tomos, chief executive of the National Library of Wales, said the event would be "a thrilling conclusion to a wonderful programme of outreach work".