Cut tax plea to help Welsh winemakers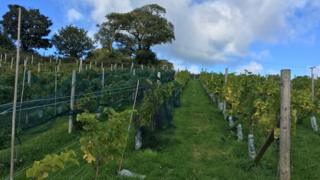 Welsh winemakers have called for tax breaks from the UK Treasury to help their businesses blossom.
The industry remains tiny - but is expanding, with about 25 vineyards across Wales producing 100,000 bottles of wine a year.
But those making wine have said they face punitive tax rates compared to beer and cider producers, paying more than £2 in duty for every bottle.
The UK government said duty has been cut on wine by 8p a bottle since 2014.
Industry newcomer Colin Bennett and his wife Charlotte began planting vines on two acres of land in Conwy county in 2012.
They produced their first vintage in 2015, and have already won national and international awards for their Gwinllan Conwy wine.
But they believe the current tax regime has placed a heavy burden on producers such as them.
"We're here in our first vineyard and pay the full hit," said Mr Bennett.
"Some relief on that - as other producers in the alcohol industry have got - would help the UK wine industry and, subsequently, the Welsh wine industry."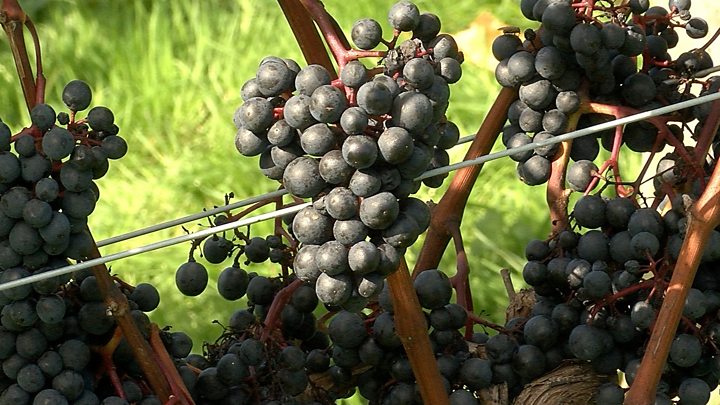 A fall in the pound since the Brexit vote means importing grape-growing and wine-production equipment from Europe is more expensive - and any exports from the UK earn relatively less cash.
"We can definitely see prices changing. We haven't got the production equipment here. It's all imported from abroad," explained Louise Ryan, owner of Sugarloaf Vineyard at Abergavenny, Monmouthshire.
"It's too early to tell yet but we may have to diversify. There's only so much of a price increase the market will take."
Robb Merchant is chairman of the Welsh Vineyards Association, helping represent the nation's growers.
He has backed the calls for tax relief and parity with the cider and beer industry - and has argued that the financial hit for the UK Treasury would be minimal.
"Home-grown wine counts for just 1.4% of the wine we drink in the UK," he said.
"It's a miniscule amount compared to what is brought into the country."
Miniscule at the moment - but rapidly expanding - even in Wales.
"We're producing about 100,000 bottles of wine a year in Wales at the moment, but by 2021 that will be 200,000," said Mr Merchant, who also runs the White Castle Vineyard, in Abergavenny.
"The interest in home-grown wine is growing. People realise that it's not a gimmick, that the growers are serious about producing quality wines."
The UK government said it could not speculate on future tax policy, as that was dictated by fiscal events.
It also said European laws did not permit reduced duty rates for small producers.
A Treasury spokeswoman added: "In the UK, a bottle of wine is 8p lower than it would have otherwise been thanks to government action to reduce alcohol duty since 2014."