Gypsy and traveller sites 'neglected' by councils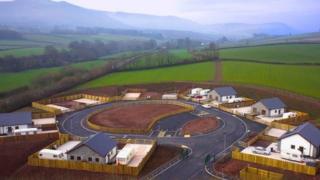 Authorised Gypsy and traveller sites have trebled in a decade after what an advocacy group called years of council "neglect".
In 2007, there were 31 authorised sites and 34 unauthorised ones - rising to 87 and 32 by July 2017.
Trudy Aspinwall, a Gypsy and traveller advocate, said councils failed to do enough until they were forced to.
The Welsh Local Government Association said all councils had submitted accommodation assessments for 2015-20.
A spokesman said limited capital grant funding from the Welsh Government was available to develop, extend or refurbish sites.
Gwynedd, Newport, Pembrokeshire and Powys councils have secured money for 2017/18.
Ms Aspinwall, team manager at advocacy group Travelling Ahead, said: "Most local authorities haven't taken their responsibilities towards Gypsies and travellers very seriously until they had to."
One of the key drivers in the increase was a change in the law - previously, councils had no obligations but the Housing (Wales) Act 2014 placed a duty on them to provide sites if there was a need.
As of July, Anglesey, Denbighshire, Ceredigion and Caerphilly had no authorised sites and Caerphilly is the only council not to have had one since 2007.
On Anglesey, land has been earmarked for a temporary stopping place and a permanent site.
Denbighshire council has launched a search for a six-pitch site and a transit site.
Neither Caerphilly nor Ceredigion have plans to create a site, both saying a 2016 survey showed there was no demand.
By contrast, Pembrokeshire's authorised sites rose from seven in 2007 to 20 in 2017 and Flintshire's went from three to 10.
Ms Aspinwall said one of the delays was "where local authorities have even tried to provide a small site, there's a very disproportionate responses from non-Gypsy and traveller people to those plans".
'Vilified'
She added that, while people had the right to be consulted, Gypsies and travellers faced "misunderstanding about who they are and how they live".
"All too often you see elected members speaking out at anti-Gypsy and traveller meetings, rarely will you see them speaking in support," she said.
"Local authorities need to employ the legislation and guidance in a spirit of fairness when Gypsy and traveller needs are given the attention they should have because of long neglect."
She said families were frustrated about the pace of progress, adding creating enough authorised sites would benefit everyone.
"Site provision is really needed because it allows people not to be moved on all the time and can link in with the local communities," she said.
"It's more effective to provide a safe and secure managed space they will pay rent for - with council tax and utilities. That is surely better than people constantly being moved on and vilified."