Calls for Richard Burton memorial in Port Talbot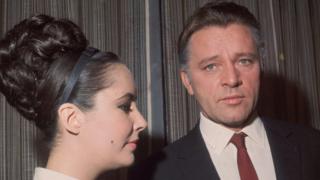 There are calls for a permanent memorial to the film legend Richard Burton to be located in his home town.
Despite his status as one of the most famous actors of the 20th Century there is nothing to mark it in Port Talbot.
Burton, who died in 1984, was born in Pontrhydyfen in the Afan Valley, and moved to Port Talbot's Taibach area following his mother's death.
Campaigners said a memorial would be a fitting - and overdue - recognition of his achievements.
Married five times - including twice to Elizabeth Taylor - the actor is remembered as much for his colourful life as the performances he brought to productions such as Dylan Thomas' Under Milk Wood, the Hollywood blockbuster Cleopatra and his Shakespearean stage roles.
Eirwen Hopkins, who is the director of the Heritage Lottery funded young persons' project 'Burton@14', is keen for the community of Port Talbot to come up with ideas for a permanent legacy in the town.
"It is hoped that we will be able to share thoughts on how the town can dedicate a permanent feature, to commemorate Richard Burton, and to remind the world of all the other stars that have put Port Talbot on the international map," she said.
Among the suggestions are renaming the Princess Royal Theatre in Port Talbot, a museum containing his many awards and diaries, and a statue.
Burton's niece, the actor Sian Owen, added: "I am so glad that we are thinking of celebrating the legacy of such a big star from the area.
"We could create a fitting and overdue recognition of his achievements, which could also benefit the community as a whole."
She said she had been to "meeting after meeting" over the last 20 years to push for a memorial, but "nothing has materialised".
"I definitely think it's a shame. I think there should be a permanent memorial for him and also the other people who have come from Port Talbot. A lot of world famous people have come from Port Talbot and I think a memorial is essential."
Not only would it act as a fitting commemoration of the actor's life - it would attract new visitors, she argued.
"Especially the Americans who are still mad about him."