Welsh writer Cynan Jones wins BBC short story award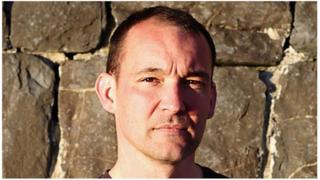 Welsh novelist Cynan Jones has won the BBC National Short Story Award for 2017 for his work The Edge of Shoal.
He was presented with the £15,000 prize at a ceremony in the BBC's Radio Theatre in London on Tuesday, beating four other writers to the award.
Judge Jon McGregor said it was "genuinely thrilling" and fellow judge Eimear McBride called it "as perfect a short story as I've ever read".
Mr Jones is from Aberaeron, Ceredigion, and is the author of five novels.
Writer Jon McGregor, who was one of the judges, said: "It's an exhilarating, terrifying, and life-affirming read. A stunning achievement, and a deserved winner of the prize."
Mr Jones has had a number of short stories broadcast on BBC Radio 4 and in The New Yorker and also scripted an episode of the crime drama Hinterland.
He became the 12th winner of the prize, which was first awarded in 2006. All stories are less than 8,000 words.