Why are young footballers choosing to play for Wales?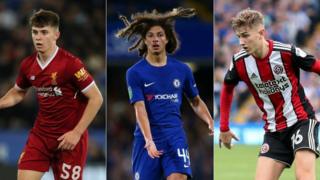 When the latest Wales football squad was announced, one name stole the headlines - David Brooks.
It was the first time the 20-year-old had been named in the senior squad, but it was the fact he was the latest English-born player to be included which sparked debate.
Not only that, but Brooks had played for an England youth side over the summer, in doing so rejecting the chance to play for Wales in the same tournament.
Some media outlets, commentators and supporters on the other side of the border were quick to question his decision, suggesting that Wales had once more stolen a bright young talent from their neighbours.
'We've been doing this for years'
But one man who has worked closely with many of Wales' youngsters over the last few years says that such comments are "laughable".
"We've been doing this for years and years now and they've never said anything," said Cledwyn Ashford, a scout and former chairman of the Welsh Schools FA.
"Once we tasted success, with the first team especially, but also at youth levels, they start raising the matter.
"Rugby, cricket and football teams have been doing this for years, it's nothing new.
"But Wales have been very successful in recent years bringing the boys through into the squad, and perhaps they [England] feel as if they've missed out."
Brooks is the latest young talented player who has chosen the land of his fathers - or grandfather in this case - over his country of birth.
Only a month ago Nottingham-born Ben Woodburn, 17, won his first caps for Wales and duly marked them in dramatic fashion with a winner on his debut.
Ethan Ampadu - who recently moved to Chelsea from his hometown club Exeter - is another teenager in the squad tipped for future stardom.
They are treading a familiar path - 12 of the current Wales squad were born in England, including captain Ashley Williams.
'Their hearts are with Wales'
But while the accusation in the past was that players were choosing to wear the red shirt because they were never likely to don the Three Lions, the latest generation are actively turning down English advances.
"I certainly wouldn't say that these are players who are good enough for Wales but not good enough for England," said Ashford.
"I know that they've been getting phone calls and people coming after them wanting them to play for England.
"But their hearts are with Wales, and hopefully that's where they'll stay."
How then have Wales managed to convince so many of them that their international future lies with the Red Dragons?
The process goes back over a decade to John Toshack's spell in charge of the senior team, with Brian Flynn tasked with unearthing new talent for the youth grades.
That work is now in the hands of the FAW's talent ID manager, Gus Williams, and Osian Roberts, who combines his job as technical director of the Welsh Football Trust with his role as the national team's assistant manager.
The work is thorough, with the FAW keeping tabs on Welsh-qualified players who mostly play at academies in England but occasionally come from as far afield as Spain and the USA.
Invitations are then sent out to participate in youth camps, and the process continues from the U16s through to the U21s.
"They feel part of the family, and I think that's the key thing," Ashford continued.
"They look after these lads, make sure they feel at home, and of course the coaching from Osian and his team, you couldn't wish for better.
"So the process begins very early, and then it's up to them who they want to represent later on."
Bale is 'just your next door neighbour'
The education continues off the football pitch as well.
"We talk to them about the history, the responsibility they have, and the pride in wearing that shirt, and I know that Chris Coleman and Osian do the same with the senior team," said Wales goalkeeper Owain Fôn Williams.
"By the time they reach the senior squad nobody's questioning their place of birth or their commitment to the cause.
"It never comes up to be honest, the lads just get on with it in the dressing room.
"They all know why they're there. They're there to do a job and that is to win games and move Wales forward and ensure that everybody's on the same page."
The senior players also make an effort to ensure that the new faces feel welcome, and overcome the nerves that may otherwise arise from sharing a dressing room with stars such as Gareth Bale and Aaron Ramsey.
"Look at Ethan Ampadu, he was with us training over the summer and he was studying for his GCSEs while he was away with us," he added.
"For a 16-year-old kid to be in there with someone like Ramsey, marking someone like Bale in training... To begin with it's like 'bloody hell, I'm here with the big boys now'.
"But within ten minutes you realise that the lads are just like everybody else, and from there that bond forms.
"There's no ego. Someone like Gareth Bale is just like your next door neighbour, it's so natural. Nothing goes to his head, and that helps everybody who comes into the squad."
The Inverness Caledonian Thistle goalkeeper also insists Wales do not hand out any caps on the cheap, tying players down purely so that other countries cannot.
"If you're in the squad you're in for a reason, and that's because you're good enough," he said.
"Chris Coleman and his coaching staff have a great deal of faith in these youngsters' ability to come on, and if they need them on the pitch, he has enough faith in them to do the job, otherwise they wouldn't be in the squad.
"They might not start straight away, but because they're in the squad, they pick up on what Chris Coleman expects of them.
"They see players like Ramsey and Bale, and then they're in-house and see what the squad is all about."