Ian Lucas: 'Make Wrexham a regional transport hub'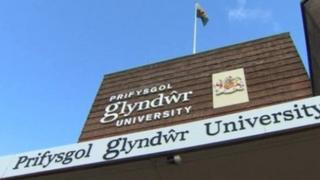 Wrexham should be transformed into a regional transport hub, its MP Ian Lucas believes.
He wants to see it at the centre of infrastructure improvements across north Wales and linked by bus and rail to the north west and midlands.
Mr Lucas said increased student numbers at Glyndwr University and Berwyn Prison - Europe's largest - would drive this.
He will outline his vision in a meeting with transport secretary Chris Grayling next week.
Currently, Mr Lucas believes the town is struggling with congestion and to stay competitive.
His main proposal is to implement half-hourly rail services between Wrexham and Chester, Shrewsbury and Birmingham, as well as Liverpool via Deeside Industrial Park.
"It is very important for an institution like Berwyn that is committed to the rehabilitation of its men, that their families can access the prison easily - this means we need improved transport connections," the Labour MP said.
"Glyndwr is also investing in its campus at Wrexham, and Wrexham businesses are continuing to grow.
"It is very clear that pressure on our existing transport infrastructure is increasing and heavier traffic flows are increasing congestion."