Ebbw Vale tree surgeon helps Hurricane Maria victims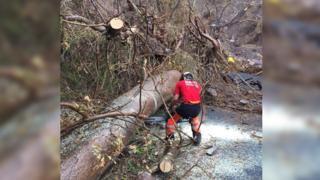 A tree surgeon from south Wales has joined a four-man chainsaw gang to help hurricane victims in the Caribbean.
Troy Elliott is helping clear roads blocked by fallen trees and land slides in Dominica.
His efforts have enabled vital supplies to reach thousands of desperate islanders left stranded by Hurricane Maria.
The islanders have been without water, power and communication since storms ripped through the region 15 days ago.
Mr Elliott, 46, is one of a gang of volunteers from the UK who have spent more than a week clearing roads to communities left stranded by the category five hurricane.
The former police officer and Royal Marine left his wife, Janet, and three children behind in Ebbw Vale, Blaenau Gwent, to fly out to the Caribbean with disaster relief charity Dart International UK in the aftermath of the devastation wrought by hurricanes Irma and Maria.
He put his job cutting trees around power lines on hold for two weeks to assist the hurricane victims.
Hurricane Maria nudged 160mph (257km/h) as it tore through Dominica - an island measuring just 50km (31 miles) long by 25km (16 miles) wide - on 19 September.
It destroyed 90% of its buildings, leaving up to 27 dead. The island has a population of 72,000.
The storm later devastated Puerto Rico, leaving the whole island without power.
Mr Elliott said: "We have been in Dominica for eight days. Our first four days were spent in the north of the island clearing roads from the Melville Hall Airport so aid can be distributed.
"On Friday, we moved down to Roseau, as directed by the Dominican foreign minister, and we have been clearing roads of tree debris and land slides ever since.
"On Sunday, we managed to clear the only road to Soufriere in the south, which had been closed since the hurricane so aid can now get into the area.
"The locals have lost everything. The devastation can only be described as biblical.
"There is still no running water, electricity or sanitation on the island.
"We are staying at the national cricket stadium in Roseau, sleeping in hammocks, eating food we brought out with us, drinking purified water and bathing in nearby rivers, but we are making a difference to the locals so it's worth it."
Mr Elliott is due to return to the UK later in October.
Hurricane Maria was the second devastating storm to hit the Caribbean in the current hurricane season - the first being category five Irma earlier in September.
Irma was one of the most powerful Atlantic storms on record, killing at least 84 people in the Caribbean and US.
The hurricane followed Harvey, which killed more than 80 people after it barrelled through Texas in August.