Could new Welsh taxes also change our behaviour?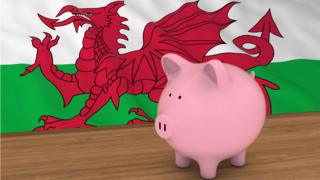 The Welsh budget has a different feel today.
As well as broad spending commitments on areas like education and health, the Welsh Government announced the rates and bands of the two taxes it has control of from next April.
The Land Transaction Act - which was Stamp Duty - and Landfill Disposals Tax are expected to collect together around £300m a year for the Welsh Government.
They only account for a tiny fraction of funding but the fact that they will be under Welsh Government control is significant.
But this is just the start of a wider change.
The Welsh Government has already asked for suggestions of what other taxes people think should be introduced and it has had 300 responses with ideas for 60 different taxes.
There is also a Tax Forum made up of representatives from the public and private sectors and a Tax Advisory Group to discuss how money should be raised in the future. This is chaired by Finance Secretary Mark Drakeford and includes civil servants, accountants, lawyers, business and voluntary sector representatives.
Ideas from a chewing gum tax to a sun bed tax were suggested but four have now been shortlisted. One will be selected to go forward.
The four shortlisted ideas unveiled on Tuesday are:
A tourism tax:
This could be a small charge per night for tourists staying in accommodation - say £1 paid when they book in - with the money raised spent on public services and infrastructure related to tourism
A disposable plastics tax
Greenpeace has already called for a tax on plastic coffee cups or "problem" plastics that cannot be recycled. Cardiff University research estimates such a charge on disposable cups could cut their use by up to 300m a year in the UK.
A vacant land tax
This would look at the issue of so-called "land-banking" - which is speculative accumulation of plots of development land by house builders and supermarkets, clogging up the system, so new homes are not built.
Analysis two years ago suggested that across the UK there are 600,000 plots of land that are not being developed that could be.
That has been highlighted as one of the issues that are escalating the shortage of homes in the UK.
It comes as Mr Drakeford announced £340m would go towards the flagship commitment to build 20,000 affordable homes.
A levy to support social care
It has been estimated that the cost of social care will rise by 4.1% a year over the next 15 years in Wales, presenting a huge challenge.
Mr Drakeford spoke of the "significant pressures" on the Welsh budget from the growing demands and said he wanted to explore potential financial levers, including taxation.
Ministers here will also work with UK government to help support a soft drinks industry levy in Wales.
This could raise the cost of excessively sugary food and drinks - and be a deterrent. A proposed tax on drinks has already been outlined by the UK Government, which it is estimated could add up to 8p to the price of a can of fizzy soft drink.
The Welsh Government is keen that there should be a distinctive Welsh approach to taxation encouraging behavioural change - in the way that the levy on single use carrier bags has already changed people's habits in the six years since it came in.
It is estimated that bag use was cut by more than 70% in the first three years. As well as millions of pounds raised for charity, it has made people think about their use of plastic bags.
Under the Wales Act 2014, the Welsh Government's proposals for new taxes will still have to be agreed by AMs, the UK Government, the House of Commons and the House of Lords.
In June, ministers published their Tax Policy Framework. This said tax would be used to help achieve wider objectives of fairness and economic growth and be developed by collaboration.
The debate about what taxes should be levied and how they should be spent will increase in intensity right up to the next Welsh elections.
By this time next year the debate will be about possible changes to income tax. From April 2019 ministers will be able to cut or raise rates by 10p in the pound within each tax band.
However, First Minister Carwyn Jones has made it clear there is no intention to change income tax rates before the election in 2021.