Off-duty Welsh soldiers helped Las Vegas shooting victims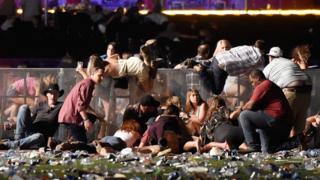 Off-duty Welsh soldiers helped victims of the mass shooting at a festival in Las Vegas, the Army has confirmed.
At least 58 people were killed and hundreds more injured in the attack at the open-air music festival on Sunday.
Soldiers from 1st The Queen's Dragoon Guard - the Welsh Cavalry - were staying in a hotel nearby and helped the injured.
Festival-goer Sam Evans, from Cardiff, said she was lucky to be alive.
Some 22,000 people were attending a country music festival late on Sunday night in the open air by the Las Vegas strip.
A gunman, named as 64-year-old Nevada resident Stephen Paddock, opened fire from the 32nd floor of the Mandalay Bay Hotel towards the festival.
Soldiers from the Welsh regiment were staying in Las Vegas after taking part in desert training in Nevada.
The BBC understands three of the soldiers were in the area at the time of the shooting and went to help - first treating the wounded and then doing some triage for the emergency services.
An Army spokesman said: "We can confirm that a number of serving personnel from 1st The Queen's Dragoon Guards provided assistance to the wounded following the heinous shooting in Las Vegas.
"Our thoughts go out to those affected by this terrible act."
Ms Evans, 26, was at the music festival with her disabled mother when the gunman started shooting.
She said other festival-goers had helped lift her mum's disability scooter over railings to a safe place in an aircraft hanger.
"We managed to get away with the help of some amazing Americans," she said.
"Mum has hurt her back and I hurt my foot, and the scooter has taken a beating. But we are alive and right now we couldn't be more happy about that."