Flu vaccine in Wales extended to Year 4 pupils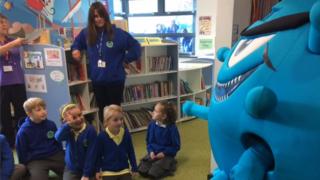 A free flu vaccination programme in schools is being extended to include children in Year 4.
The annual campaign in Wales covers children aged from two up to nine, pregnant women, over-65s and those with certain medical conditions.
Children in nursery, reception and Year 1 to 4 can all now receive nasal spray vaccines in school.
Younger children and other eligible groups can have it at GP surgeries and some community pharmacies.
In August, the Welsh Government announced all primary school children would be offered the flu vaccine within two years.
Last year, 74 people were admitted to intensive care units in Wales with suspected influenza.
Public Health Minister Rebecca Evans AM said: "Influenza can be a life-threatening illness for people who are at risk due to their age, an underlying health problem, or because they are pregnant. Sadly, influenza kills people in Wales every year."
Dr Richard Roberts from Public Health Wales said: "The influenza viruses change regularly and vaccine protection fades over time, so if you are in a risk group and had the vaccine last year, it is still important to get vaccinated this year to protect yourself this winter."
The vaccination campaign is beginning on Monday.