Special needs pupils' exclusion rate 10 times higher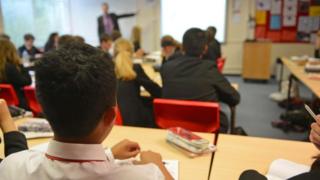 Children with special educational needs had 10 times the rate of temporary exclusions from Welsh schools compared with those without, last year.
New Welsh Government data also showed four times the rate of short-term exclusions among pupils entitled to free school meals.
Academic Gareth Evans said pupils need to be in school "as often as possible".
The Welsh Government said £90m extra funding would help disadvantaged pupils.
The figures show there were 112 fixed-term exclusions of fewer than five days per 1,000 pupils with special educational needs (SEN) statements in 2015-16, compared with 11 per 1,000 pupils with no SEN.
"No child should be deprived of a good education because of their background or where they come from," said Mr Evans, of the Institute of Education at University of Wales Trinity Saint David.
"It is our responsibility as educators to make sure all pupils achieve to the best of their ability - and to do so, they must be in school as often as possible."
He said poor behaviour was often the result of "unmet need or negative experience at home" and the figures were an "important reminder" of the different challenges schools face.
"It is important, in the first instance, that special educational needs are properly identified and then pupils are given the requisite support they need to help them achieve at school," he added.
Special educational needs (SEN)
Children requiring assistance in Welsh schools fall into three categories - statemented, School Action and School Action Plus.
The statemented category is for children with known SEN. School Action and School Action Plus are those children requiring assistance in lessons, with the latter being more profound cases which usually require external help.
Children with SEN statements also had six times the rate of permanent exclusions (0.6 per 1,000 pupils) of those pupils with no SEN (0.1 per 1,000 pupils), although both rates were low.
Of Wales' 22 council areas, Pembrokeshire saw the most-notable increase in the number of children being temporarily excluded from school in recent years.
It went from 113 fixed exclusions of fewer than five days in 2011-12, increasing each year to 1,043 in 2015-16.
Pembrokeshire council said it was focusing "on giving children the skills to succeed and remain in the classroom" and had organised two pupil behaviour conferences for teachers.
It said it now had a "very different approach to behaviour management" which would have affected figures in recent years.
Highest fixed-term exclusion rates in Wales per 1,000 pupils:
Denbighshire - 69.3
Pembrokeshire - 58.7
Torfaen - 48.7
Newport - 41.0
Monmouthshire - 40.5
Ceredigion was the only county where no child was permanently excluded or given a fixed-term exclusion of more than five days in the last five years.
The council attributed this to its behaviour support service, which it said had helped with "early identification, support and graduated intervention" for children at risk.
Owen Hathway, Wales policy officer at the National Education Union, said: "No-one ever wishes to see a child excluded from school. If an exclusion is deemed necessary it is undoubtedly a final resort."
A Welsh Government spokesman said the permanent exclusion of learners with statements of SEN was only in the "most exceptional circumstances" and the permanent exclusion of any child was as a "last resort".
He added: "We are investing more than £90m a year in extra support to help our most disadvantaged pupils through our pupil development grant which is making a real difference in breaking the link between poverty and attainment.
"Our recently-launched national education action plan puts the wellbeing of a child at the heart of our inclusive education system as we believe every child should have the opportunity to succeed."