Mahatma Gandhi statue has been unveiled in Cardiff Bay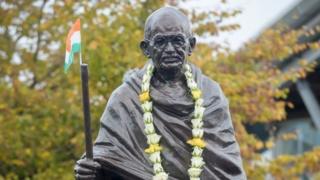 A statue of Mahatma Gandhi has been unveiled in Cardiff to mark the 148th anniversary of his birth.
The 6ft (182cm) bronze effigy stands near the Millennium Centre at the end of Lloyd George Avenue in Cardiff Bay.
Gandhi's grandson Mr Satishkumar Dhupelia, Indian diplomats and First Minister Carwyn Jones all attended the unveiling.
The statue cost £65,000 and was funded by three years of donations to the Hindu Council of Wales.
Sculptors Ram Sutar and his son Anil of Noida, India, created the statue that depicts Gandhi holding a staff in one hand and the Hindu book The Bhagavad Gita in the other.
Vimla Patel, chairwoman of the Hindu Council of Wales, said: "Mahatma Gandhi is an inspiration to current and future generations to live together in peace and harmony and to treat each other with love and respect irrespective of one's religion, culture or race."
Gandhi is known all over the world for the non-violent resistance he led in India. On 15 August, India celebrated the 70th anniversary of its independence from British rule.
Raj Aggarwal, the honorary consul for India in Wales said: "This statue shows the important bonds between the two nations of India and Wales and the great relations for the Indian diaspora who have made Wales their home.
"We hope this statue will stand as a tribute to those ongoing good relations and help us move towards even stronger cultural and trade developments for our two great nations."
Gandhi's links to Wales include those with former Prime Minister David Lloyd George, whose championing of the Welsh language helped inspire Ghandi to fight for the preservation of India's.
In 1909, Gandhi wrote: "Mr Lloyd George is taking steps to ensure that Welsh children do not forget their language.
"How much more need is there for Indians to preserve their language than for the Welsh to preserve theirs, and how much more keen should we be?"