Qatar Airways chief's faith in Cardiff Airport service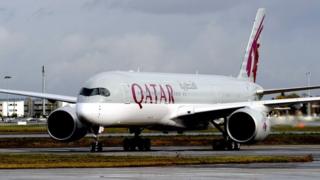 The chief executive of Qatar Airways said he resisted pressure from inside the company not to fly between Doha and Cardiff Airport.
Akbar Al Baker said there were "very strong arguments" from people inside the airline that there were not enough passengers to justify the new daily flight.
But he insisted he will be proved right in opting for Cardiff instead of Bristol.
The route starts in May 2018.
Mr Al Baker told BBC Wales he would be the "facilitator" in bringing further investment into Wales using the new service.
The UK and Qatari governments have agreed a £5bn investment deal for future projects.
Qatar already has important links with Wales, including Qatar Petroleum which is the majority shareholder in South Hook, one of the largest liquefied natural gas (LNG) terminals in Europe, in Milford Haven, Pembrokeshire.
Cardiff Airport and the Welsh Government, which owns it, have made clear they are looking for a private sector partner to support the development of the Vale of Glamorgan site, including a new terminal building.
Mr Al Baker, speaking at a trade mission in the Qatari capital, said: "Wales is a huge developing state - it was important that we operate and connect the people of Wales and the south west with the rest of the world."
But he said the service would have to stand on its own two feet.
"We're not a taxi company, we're an airline, so we can't please and placate everyone's request," he said.
"We have to make sure where we operate, we're operating commercially and that we make sure the route is developing very fast and with the right kind of people and being the right kind of yield."
Mr Al Baker said he had been lobbied by ministers, diplomats and airport bosses and there had been "immense pressure" to convince him to operate to Wales.
"We had competition between Wales and Bristol and Wales won."
He said it was important to have daily flights and he had had arguments with his planning team over passenger numbers.
But he said Wales was "a big part of the United Kingdom" and there were travellers who could not be tapped directly from Cardiff before.
"When a child needs a bar of chocolate you don't give it in pieces - the region was longing for an international flight and as one of the world's only five star airlines, why shouldn't we go daily?"
The announcement of the new route was made before the current dispute between Qatar and its neighbours including Saudi Arabia and United Arab Emirates.
Qatar Airways is banned from flying over those countries, which means flights could take longer and be more expensive, potentially deterring customers from Cardiff to Doha.
Mr Al Baker also rejected the idea the current strained relations in the Middle East would impact on UK travellers.
It is four years since Cardiff Airport was bought by the Welsh Government for £52m following a slump in passenger numbers.
Deb Barber, Cardiff Airport chief executive, said the Qatar Airways route was significantly important as it focused on turning around perceptions.
"It's about building what we call contagious confidence in the business both with passengers and airlines," she said.
"To have a world class airline like Qatar have confidence and trust in our airport and market will have a huge catalytic effect for us and add to the confidence we're building up on a monthly basis."
She said there was a market of 1.4m passengers from the Wales and west region who at the moment flew to the Middle East from other airports.
A reception was held at the British embassy in Doha, with guests including Welsh Secretary Alun Cairns and the RAF's Red Arrows display team.
Mr Cairns said: "It's an opportunity for in-bound traffic but also outbound traffic so Cardiff becomes part of this global Britain that we're developing."