Cardiff and Vale stroke specialist shortage concern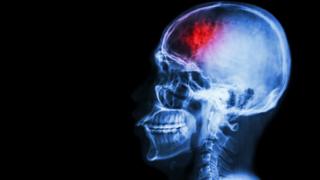 Concerns have been raised after "game-changing" treatment for stroke patients in south Wales was stopped because of a shortage of specialists.
Of three Cardiff radiologists able to perform thrombectomies, one took a new job, another retired and the third is on sick leave, it is understood.
The Stroke Association said despite a case-by-case arrangement with Bristol, Wales needed a long term solution.
It is set against a background of a UK-wide shortage of specialists.
In north Wales, stroke patients have access to the clot-removing procedure at Walton in Liverpool.
It has been described as "game changing" in offering some patients a much better chance of making a recovery, especially if it is performed quickly after the symptoms of a stroke appear.
What is a thrombectomy?
A 3ft-long tube is inserted into an artery and a stent is fed through it into the brain.
When it reaches the clot, the stent traps it and removes it, restoring the blood flow.
It aims to limit brain damage and prevent long-term disability.
Experts believe the procedure can offer an 80-90% chance of opening up blocked blood vessels compared to a 30% chance with clot-busting drugs.
Patients need to be treated in a vital four-to-five hour window, so where the procedure is available is important.
It is estimated around 500 patients a year in Wales could benefit from thrombectomy treatment.
But there are only around 80 specialists - interventional neuroradiologists (INRs) - who can perform the procedure across the UK.
The Royal College of Radiologists (RCR) estimates that this is around 50 short of what is needed for England alone.
However, it emphasised that the development of the service has always been intended as a phased roll-out as it takes another three years on top of the three years core radiology training to learn the technique.
Last year, Cardiff and Vale health board established the first thrombectomy service in Wales on an "informal basis" before it was forced to suspend it in May.
Dr Nicola Strickland, president of the RCR, said Cardiff was no different from many UK cities.
"There are only a select number of centres currently in the UK that have enough INRs to be able to perform the procedure on suitable stroke patients, and even fewer of these are currently able to provide the service 24/7," she said.
'Difficulties'
Dr Strickland said it was a non-commissioned service in south Wales, meaning it has been performed "ad hoc" with the expertise available.
Ross Evans, director of the Stroke Association in Wales, said the "vast majority" of patients who could benefit were still not able to access it.
"There is a lack of specialist staff trained in thrombectomy, and acute services are not organised in the most efficient way to allow thrombectomy to happen," he said.
The charity said it regularly met Welsh Government officials to push for improvements in stroke care and called on them to "drive forward" a commissioned thrombectomy service for the whole of Wales.
Cardiff and Vale health board said 18 patients had the procedure in the nine months it was able to operate.
A spokesman said it was looking to bring in a formally commissioned service "as soon as practicable".
It was looking to "further strengthen" thrombectomy services in the meantime through collaboration with Welsh health commissioners and colleagues in Bristol.
A Welsh Government spokesperson said: "We are acutely aware of the difficulties in accessing mechanical thrombectomy services for stroke patients across the UK.
"We are working closely with health boards to put in place place both interim and more sustainable long term arrangements for the provision of these services to Welsh patients."
Health Secretary Vaughan Gething said last month an options paper on expanding the service in Wales was being prepared.