Players in their 50s and 60s 'make up numbers' in rugby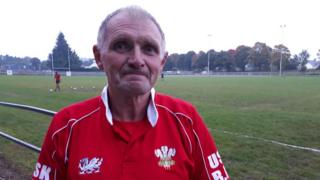 Rugby Union is recognised the world over as one of the toughest and most demanding sports.
It is seen as a young person's game, but there is a select band of players in Wales who are continuing to pull on their boots well into their 50s and 60s.
It is hard to tell if the number of people playing into their older age is increasing, because it's unclear if all those registered with the Welsh Rugby Union play regularly or even at all.
BBC Radio Wales has spoken to three older players who ruck, maul and tackle most weeks.
Peter Thomas, known as Jacko, is 56 and a grandfather of four. He has been playing for Ferryside rugby club, near Carmarthen, for more than 30 years, the club where the former Wales and Scarlets outside-half, Stephen Jones, started his career as a junior.
Jacko is the club chairman, the clubhouse barman and the groundsman.
"I don't feel 56. I feel like I'm still 30 years of age," said Jacko, who still turns out for the first team.
He said he loved the game too much to give it up and said the secret to a long career was "hard graft".
He has a variety of jobs from collecting scrap to baling hay. "I can't be in an office picking a pen up," he joked.
But what about his family? Do they want him to hang up his boots?
"My mother's not too happy. She's 88," added Jacko.
A bit further north in Powys, Nick Larder, a 61-year-old grandfather, is returning from injury and is set to play for Welshpool rugby club's second team this season.
The former club chairman said he could not imagine life without playing sport at the weekend.
"I just love it," he said. "I've always played a team sport and I really don't know what to do on a Saturday unless there is some sort of team sport."
But what about the big hits, the bone crunching tackles? They are not easy for a 21-year-old to take, never mind a 61-year-old.
"I was very pleased last year," Nick added. "We played in a bit of a friendly game but I did get one very big hit and I was actually very pleased because it showed to me that I can still take it, so that's permission to carry on for another couple of years."
At Usk rugby club, Roger Morgan is something of a legend. The 61-year-old grandfather, who is known as Chicky because he used to work with poultry, started his career at the Monmouthshire club in 1975 and has been ever-present since then.
"When I was 35 I was going to pack rugby in and play golf, but I've managed to do the two," he said.
"I don't get too involved with the tackling or anything, but I still love it, love it to bits, after the game and everything with the opposition. You can't fault it. You won't have a better game than this."
Roger said he had to accept the odd quip from opponents, such as "come on old man", but he said it was all part of the game.
He said he usually replied with: "I'd rather you'd run past me instead of through me."
Can he ever see himself retiring?
"I've had so many testimonials over the last couple of years, I'm just plodding on," he added.
"I don't intend to play every week, but if we're short I'll make the numbers up so we can have a game."