School curriculum expert's momentum warning over delay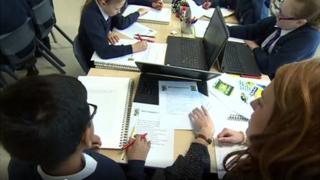 The architect of a new curriculum for Wales' schools has warned against losing momentum after its timetable was extended.
Prof Graham Donaldson wrote a review setting out an overhaul of education for three to 16-year-olds in 2015.
But Education Secretary Kirsty Williams last week announced the curriculum would start being taught in classrooms a year later than planned, in 2022.
She wants it phased in over six years to allow schools to be fully prepared.
Ms Williams said it was the right decision for the new national curriculum to be a "phased roll-out rather than a big bang".
Digital competency as well as literacy and numeracy will be key elements.
The new timetable was announced after teaching unions and politicians said more time was needed for schools to prepare.
It means children now in Year 3 and above will miss out on the new curriculum.
Prof Donaldson, former Scottish chief inspector of schools, said "progress remained good" but warned against "any loss of momentum in the whole dynamic of this reform".
"Clearly, with the more time that passes, then the risk is people begin to relax and we lose the kind of dynamism that we need to have in the development process," he added.
"So I'm not disappointed about the extension of the timetable but I am determined that that extension should be used to full effect and that we just don't take longer to do what we would have done anyway."
Prof Donaldson was involved in the development of the Scottish curriculum, which faced problems during its implementation.
A decline in Scotland's performance in the most recent international Pisa rankings has also prompted questions about whether it is a suitable model for the Welsh reforms.
Asked about these concerns, Prof Donaldson denied Scotland was a model for Wales.
"It's a Welsh curriculum, it's a Welsh reform, it's a Welsh programme which is learning from the experience of other countries - one of which is Scotland.
"But Scotland's only one of the countries they want to learn from."
He urged schools to approach the new curriculum with "gusto" and welcomed how political parties were treating the reforms.
The Welsh Government spokesman said its approach would mean schools would have the time to engage with the development of the curriculum and be full prepared.
"As the OECD have recommended, we will continue our drive to create a curriculum for the 21st Century," he added,