Women make up just 4% of Wales' firefighters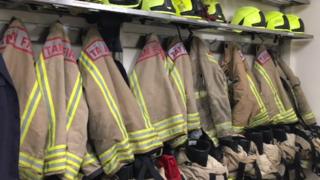 "Serious action" is needed to recruit more female firefighters in Wales, a gender equality charity has said.
It comes after a Freedom of Information request by BBC Wales found just 4% of firefighters in Wales were women.
Chwarae Teg said the figures were disappointing but "hardly surprising".
The three fire services in Wales said they held "positive action days" to encourage new recruits from under-represented groups.
Mid and West Wales, North Wales and South Wales fire and rescue services were asked to provide employment figures for both whole-time and retained firefighters.
The figures compare unfavourably to those of Wales' police forces, where about 30% of officers are women.
Female firefighters (2017)
South Wales: 34 (2.4%)
Mid and West Wales: 58 (5.2%)
North Wales: 36 (5.4%)
Female police officers (2017)
South Wales Police: 900 (% unavailable)
Dyfed-Powys Police: 372 (32%)
Gwent Police: 389 (33%)
North Wales Police: 510 (34%)
North Wales fire service gave figures dating back to 2006, South Wales to 2007 and Mid and West Wales to 2009.
South Wales had the lowest proportion of female firefighters, with the percentage failing to top 3% in any of the past 10 years.
Chwarae Teg Chief Executive Cerys Furlong said "serious action" was needed to tackle stereotyping which prevents more women from entering male-dominated professions.
"From a young age boys are told that they should aspire to professions like the fire service, where as girls are told that they aren't strong or brave enough," she said.
"Children face gender stereotyping at every turn, from the toys they play with, to the books they read, to the outfits they dress up in, to what they're taught in school."
Llanelli fire station crew manager Hannah Lodder, 41, who has been a firefighter for 20 years, said she had come up against some gender barriers, but the service was "constantly evolving".
Ms Lodder said when she returned to work after having a baby, she had to ask for a room to express in while breast feeding which she described as "a real eye opener for some of the male firefighters".
But she said the service had improved: "It doesn't matter who you have on that pump, you're there to do a job and work as a team.
"If someone has a weakness, then someone else will have that strength."
She said it was also important people used the term firefighter rather than fireman as it dispelled the myth the profession was just for men.
Alison Kibblewhite, who joined the south Wales service in 1995, said there was a "common misconception" that being a firefighter meant a person had to be extremely strong.
"Being a firefighter is about working as part of a team, pulling together to make what could be someone's worst day of their lives that little bit better," she said.
She added there were many different careers for women in the fire service, including training and raising awareness of fire safety in the community.
North Wales Fire Service human resources manager, Llinos Gutierrez-Jones, said there were a number of criteria they need to ensure when recruiting firefighters, including being physically fit.
But they also want the workforce to "represent the diverse communities they serve".
South Wales Fire Service human resources manager, Mark Malson, said it too had a strategy to support the recruitment of women.