Cardiff University degree aims to boost A&E doctor numbers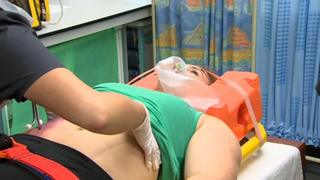 A new university degree has been launched in an attempt to increase the number of doctors pursuing a career in accident and emergency units.
The emergency pre-hospital and immediate care BSc is a year-long course at Cardiff University.
In 2016, a leading doctor said Wales' A&E units were "on the edge".
Dean of medical education Dr Steve Riley said it was "essential" the university helped tackle recruitment and retention issues.
The year-long training puts students in emergency departments and they will also work alongside paramedics.
At first 10 students, in the fourth year of their medicine degree, will be able to take this course and will be placed in hospitals in south east Wales.
By 2020, this will increase to 15 students and will be expanded to include hospital placements in west and north Wales.
Dr Riley said he hoped it would "encourage students to make Wales their first choice for training, development and career aspiration".
It is part-funded by the Welsh Government and Health Secretary Vaughan Gething said it was "the start of a very exciting time for the medical school".