Cardiff IS fighter Reyaad Khan filmed with 'Jihadi John'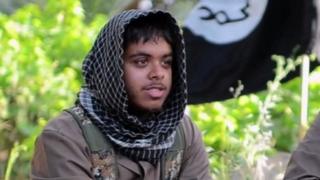 Footage has emerged of a Cardiff jihadist with other Islamic State militants, including Mohammed Emwazi - the man known as Jihadi John.
Reyaad Khan, 21, was killed by an RAF drone in Syria in August 2015 and it is thought this footage is from late 2014.
Sitting with Khan and Emwazi are Junaid Hussain from Birmingham and Raymond Matimba from Manchester.
Cyber terrorism researcher David Mair said it was credible that Khan was seen as the group's religious authority.
Footage obtained by the Daily Telegraph shows the four men in conversation together in Syria.
Mr Mair, of Swansea University, said: "We knew they were socialising together, we didn't know they were a tight, cohesive social unit.
"Look at the type of personalities involved; Reyaad Khan said he wanted to be the first British-Asian prime minister - he was a smart, social boy, he was very good at scholarly-type activities so that role as the religious leader in the group really does make sense."
However, Muhammad Kobir from the Jalalia mosque in Cardiff, from which news of the jihadist's death first emerged, said he found this claim to be implausible.
"To get so knowledgeable takes a lifetime and in that short amount of time - overnight, shall I say - I don't think any of the community members would accept that," he said.
In 2014, former Cantonian High School and St David's College student Khan appeared in a video along with another man from Cardiff urging others to join IS.
He was seen in the 13-minute propaganda video alongside his friend Nasser Muthana and Abdul Raqib Amin from Aberdeen.
The then Prime Minister David Cameron called the killing of Khan in 2015 self-defence, saying he was plotting "barbaric" attacks on UK soil.