Swansea's Twin Town and Bonnie Tyler in city of culture bid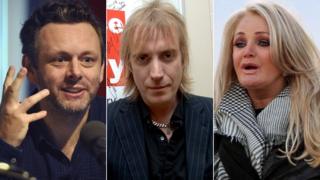 A musical inspired by the film Twin Town and thousands re-creating Bonnie Tyler's biggest hit on a beach are proposed events in Swansea's final bid for the 2021 UK City of Culture.
The culture and arts programme would also include a city-wide theatre production led by Michael Sheen.
The city aims to attract 1.1m extra visitors and a £31m economic boost if it becomes the host city.
Swansea is up against four other cities and finds out in December.
Full details of Swansea's year-long plans will only be unveiled if it wins but some of the early suggestions are:
MICHAEL SHEEN
The actor from Port Talbot has backed the bid and would stage a new production at locations around Swansea, provisionally called Sally Rhubarb. It is a local term for Japanese knotweed, the invasive yellow plant which has spread across Swansea since being introduced in the 19th Century. Most of Sheen's plan is under wraps, but he is likely to bring the plant to life at sites across the city.
INSPIRED BY TWIN TOWN
A musical inspired by scenes from cult classic Twin Town could be performed in the city centre. The idea is devised by the film's writer, Kevin Allen, and its star, Rhys Ifans, are both supporting the bid.
BONNIE TYLER
'Bonnie on the Beach' would see Bonnie Tyler's biggest hit re-created on the Swansea sand as choreographers work with a large crowd to perform what is expected to be an unforgettable rendition of Total Eclipse of the Heart.
OWEN SHEERS
The poet and playwright, who is also professor of creativity at Swansea University, would use academic research into the dark web as the basis for a new theatre production.
RACHEL WHITEREAD
Rachel Whiteread would be Swansea's artist-in-residence during its period as City of Culture. Born in London and with a home in Llandeilo, she was the first woman to win the Turner Prize in 1993. She is best known for creating House, a life-sized concrete cast of the inside of a condemned terraced house from London's east end. During 2021 she would work with local artists and students on new works to celebrate Swansea's status as UK City of Culture.
NATIONAL COMPANIES
As well as specific projects, national arts companies have committed to staging large-scale productions. Welsh National Opera, Wales Millennium Centre and National Dance Company Wales are among those to pledge support. Previous cities of culture, including Hull this year, have attracted UK institutions such as the Royal Shakespeare Company and the Turner Prize, and there is an expectation that Swansea will also draw the best of British cultural events to the city.
Twin Town star Rhys Ifans officially handed over the bid in London on Thursday evening.
He told an event back at Swansea's National Waterfront Museum: "I just want to send my heartfelt congratulations to all of you gathered there tonight in Swansea for all your incredible hard work and diligence over the months and years leading up to this moment. I'm feeling lucky. I'm feeling very lucky!"
Marc Rees, from the team, said it had decided to be more forward thinking and less nostalgic, while harnessing the bay and local people's humour and personality.
"I think it's our time, it's time for Swansea to shine and we're ready to deliver a very exciting programme which will draw attention to the UK and the world," he said.
"Often Swansea is bridesmaid to Cardiff's bride - so it's time to don that frock and show off."
Eluned Haf, from Wales Arts International, said it was a "unique opportunity" to tell our story to the world in a period immediately after Brexit.
"Rethinking how we relate to the rest of the world and all the different European nations, supporting our arts and industries to continue to be mobile, and welcoming the best of the world to Swansea, Wales and the UK is of paramount importance," she said.
"In context of a City of Culture, it's the opportunity to tell that story of a confident, forward, outward-looking and multi-lingual culture, that welcomes people who need sanctuary."
SWANSEA'S RIVALS:
Coventry: Aims for a thriving programme of events to change the reputation of a city, beyond its ring-road. "We weren't sent to Coventry; we chose to come." Cultural icons: Poet Philip Larkin, 2 Tone bands The Specials and The Selecter, thriller writer Lee Child.
Paisley: Aims to create 4,700 jobs over a decade and provide a £172m economic boost across Renfrewshire. Cultural icons: Hollywood star Gerard Butler, former Doctor Who David Tennant, Downton Abbey actress Phyllis Logan and musician Paolo Nutini.
Stoke-on-Trent: Aims to deliver "the biggest historical landmark to occur in our city since the Potteries industry was thriving". Cultural icons: Pottery and ceramic heritage including Josiah Wedgwood; singer Robbie Williams, novelist Arnold Bennett, actor Neil Morrissey and TV presenter Nick Hancock.
Sunderland: Aims to build on regeneration "and as well as world class cultural assets like the Empire and the National Glass Centre, there's never been a better time for Sunderland to win". Cultural icons: Coronation Street actress Melanie Hill, BBC radio presenter Lauren Laverne, The Futureheads, singer Emeli Sandé and actor James Bolam.
Graeme Farrow, artistic director of Wales Millennium Centre, was executive director of the first UK City of Culture in Derry in 2013.
He admitted to being a "bit torn" as he is originally from Sunderland, but added: "It's really exciting for Swansea and the combination of the urban and the rural. I think they're doing it in the right way."
Economy Secretary Ken Skates said it was a "key opportunity to accelerate the city's regeneration".