£4.8m Welsh and Irish climate change sea study launch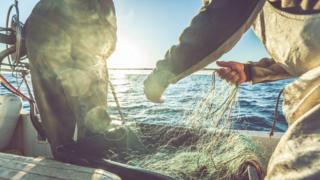 Scientists from three universities in Wales are taking part in a new multi-million pound project to study the effects of climate change on the seas.
Interreg Project: BlueFish will look at the health of fish stocks in the Irish Sea over the next three years.
It will see Bangor, Aberystwyth and Swansea universities work with institutions in Ireland.
The £4.8m (€5.5m) EU-funded project is being launched at Marine Centre Wales in Menai Bridge, Anglesey, on Tuesday.
Bluefish will also study the migratory movement of commercial fish and the risks from new non-native species.
Dr Shelagh Malham, operation director for the project, said: "The Welsh and Irish Governments have highlighted the fishing and aquaculture sectors in the Irish Sea as economically and socially important.
"Sea fishing and aquaculture is worth millions of pounds to the Irish and Welsh economies and supports large numbers of jobs around the respective coasts."
Restrictions on cod and salmon fishing in the Irish Sea have previously been imposed in a bid to rejuvenate falling stocks.