Cardiff man held in Spain over 'terror supply plot'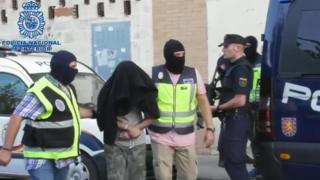 A Cardiff businessman has been arrested in Spain over an alleged plot to equip terrorists with military grade surveillance equipment.
Web designer Ataul Haque, 34, originally from Bangladesh, had businesses in Cardiff and Newport.
Spanish Police raided Mr Haque's home in Merida in the early hours of Friday.
His brother Siful, who was a computer hacker for the so-called Islamic State, was killed in a US-led coalition air strike in Syria in 2015.
Mr Haque was listed as a director of the now dissolved Cardiff-based company Ibacstel and founder of Newport-based Etakeout.
In August, an FBI investigation in the United States alleged Ibacstel was a front to finance terrorism and supply IS with military-grade scanners and surveillance equipment.
A court case in Maryland has already resulted in an American IS supporter pleading guilty to accepting $9,000 from the Welsh companies to finance an attack in the US.
Papers relating to the case indicate payments were funnelled through Ibacstel Electronics Limited, which operated out of an office on the Alexandra Gate Business Park in Tremorfa, Cardiff.