Welsh language theatre 'should have full review'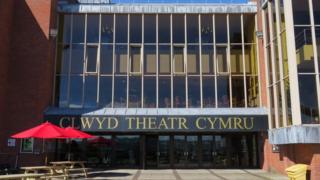 Welsh language script writers and theatre talent are missing out on opportunities in Wales, it has been claimed.
Some in the industry have warned that talent in Welsh theatres is increasingly being sourced in England.
Manon Eames, of the Writer's Guild of Great Britain (WGGB), has called on the Arts Council of Wales to carry out a "full review".
The Arts Council said it wanted to "improve the situation".
Actor and producer Ms Eames, who is the WGGB's Wales committee chairwoman, raised concerns to BBC Radio Cymru's Post Cyntaf programme about a lack of opportunities for Welsh talent at Theatr Clwyd in Mold, Flintshire.
She highlighted that the theatre sources talent and production teams from England, and holds many of its productions in the English language.
The theatre has spent more time outside of Wales - 755 actor weeks since 2015 under its new management - compared to 191 during its previous management.
Her concerns have been echoed by Welsh actor Ifan Huw Dafydd.
He said: "The Arts Council of Wales is Welsh money there to be spent on Welsh talent and development. Why on earth is it being spent in London?"
In response, Theatr Clwyd said its work across the border was due to more theatre and co-productions, more actors being hired and the touring of its work around the UK.
A spokesman added management changes have "led to a greater amount of work in our community, in the Welsh language, and with partners across Wales and into the rest of the UK".
The Sherman Theatre in Cardiff has also been criticised for appointing a non-Welsh speaker as its new associate director - a role previously filled by a Welsh speaker.
But the job description stated being able to speak Welsh was "not essential".
The theatre has commissioned four Welsh language plays since 2013, compared to 15 in English and one bilingual play.
A spokesman for the theatre said it works with "a wide and expanding pool of practitioners to develop our Welsh language work" and would have a new bilingual company in residence from 2018.
Ms Eames has now called on the Arts Council of Wales - which provides both theatres with most of their funding - to reveal how it plans to develop Welsh language talent in future.
She said: "As a public body responsible for funding these theatres they must now offer transparency and answers to the current situation."
Sian Tomos, the Arts Council Wales' director of enterprise and regeneration, said Welsh language provisions must be improved.
"We have a monitoring committee which looks at all aspects of the use of Welsh in theatres including employment through the medium of Welsh... and we have seen a fall in the provision of Welsh," she said.
She said the Arts Council has set up its own taskforce to "address the problem as soon as possible", calling it a "matter of urgency".
Earlier this month, Theatr Ardudwy in Harlech, Gwynedd, announced staffing levels will change and performances would be cut back because of money problems.