Helfa Gelf trail welcomes visitors into artists' studios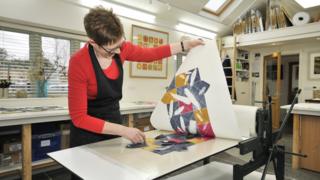 An innovative trail that welcomes visitors into artists' studios has been an overwhelming success, organisers have said.
The public has one last weekend to experience the Helfa Gelf event, which has hosted its largest ever series of exhibitions.
The festival now covers all but one county in north Wales.
Festival chairman Judith Samuel said it had been an "affirming" experience for the artists taking part.
"The artists get an enormous amount from it. It's a chance to sort out your studio - and then get people to come and see your work," she said.
"All the artists that have had visitors have been very happy."
The Helfa Gelf trail started in 2006 in Conwy, and every year has got bigger - now stretching from Dolgellau in south Gwynedd, all the way to Wrexham and across Denbighshire and Flintshire.
It has been backed with funding from the Arts Council of Wales, and has support from the Welsh Government and local councils.
"It is growing and developing every year - and we've had some super exhibitions this year," added the trail's chairman.
"We are attracting visitors from not just north Wales, but from across the north-west of England, Chester and the Welsh borders.
"It has been very affirming for all the artists involved."