Devolution: What is the impact on Wales' environment?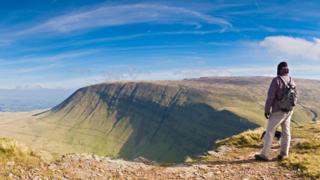 From world-class recycling rates to a tree planted for every newborn, devolution's influence on the Welsh environment has been largely positive, it has been claimed.
But 20 years on and the incoming Friends of the Earth Cymru chairwoman warned greater strides were needed on decarbonisation.
Meanwhile, there is still confusion about where power lies for parts of the vast political brief.
Some claim that causes "difficulties".
Green innovation
The new chairwoman of Friends of the Earth Cymru, Haf Elgar, said: "Decisions made in Wales over the last two decades as a result of devolution have been positive for the environment as a whole.
"We have seen innovation with the introduction of the plastic bag charge, statutory recycling targets, no GM crops and a moratorium on fracking.
"It has been possible to do things differently in Wales, in the interests of people and the planet."
In October 2011, Wales became the first UK nation to bring in a charge for the use of disposable bags, with supermarkets reporting a 90% reduction in their use within just six months.
More recently, the nation's impressive recycling rate has been much trumpeted - well ahead of the rest of the UK, second in Europe and one international report placing Wales in third position in a global league-table of top recyclers.
Another development to have caught the attention of the international community is the passing of the Well-Being of Future Generations Act, which places a legal duty on public bodies to think about the impact of their decisions on the environment, as well as other considerations.
Sustainable development has been a key theme of the Welsh assembly's work since it was created and was actually written into its constitution back in 1999.
On environmental regulation, Wales now has a unique organisation in charge - Natural Resources Wales.
It replaced the Welsh Environment Agency and Forestry Commission - which still exist across the border - as well as the Countryside Council for Wales.
The aim was to take a more joined-up approach to managing the Welsh environment, with mixed results so far.
A renewable future?
"The devolved institutions have improved democracy in Wales with more opportunities to influence policies and decisions made closer to us," Ms Elgar explained.
"But it's not been all plain sailing - and there is a need to take great strides to decarbonise, and act on the Well-Being of Future Generations Act.
"Meanwhile the mixed position of which powers have been devolved continues to cause difficulties."
Environmental organisations have sharply criticised the Welsh Government in recent years for its efforts in tackling climate change.
Government advisors have warned Wales is likely to miss its target for a 40% reduction in greenhouse gas emissions by 2020, while Scotland by contrast is on track.
The Welsh Government has said it intends to make Wales a nation "renowned for its renewables" - so-called clean energy schemes.
But given that control over large energy projects, subsidies and the grid infrastructure that delivers power to our homes is still in the hands of the UK government their influence has been limited.
Though ministers in Cardiff Bay have been vocal in their support for the Swansea Bay Tidal Lagoon, for example, they have failed so far to persuade counterparts in Westminster to approve the scheme.
Farming
One area where the devolution settlement is clearer is agriculture, and the role of successive Welsh Governments in shaping farming here has been a constant topic of debate for those in the industry.
Dylan Morgan, head of policy at farming union NFU Cymru, said devolution had brought politicians and decision-makers closer to Welsh farmers.
"We've had much more of a chance to talk things through with ministers and assembly members - you see them about the place and obviously Cardiff Bay is much closer to us than Westminster," he said.
But he said many farmers were split on whether devolution was a good thing, with complaints over differences in policy between Wales and Westminster around issues such as bovine TB causing concern.
"The impact has been mixed and we've been disappointed with certain decisions," Mr Morgan said.
"On a positive note the Welsh Government has been working with the industry to promote our food and the Welsh brand.
"But an effective strategy to combat TB has been lacking and the decision back in 2014 to change the direct payments we receive put Welsh farmers at a disadvantage compared with the rest of the UK."
The future
So what does the future hold?
If UK government promises hold true, the Welsh assembly could soon have even greater powers over the environment and farming, as EU rules and regulations are transferred after Brexit.
"We'd go from a situation where we'd be implementing policy that had been created in Brussels to creating our own bespoke laws here in Wales," Mr Morgan said, adding it was "a huge opportunity for the assembly".
But it would be a sizeable challenge too, as the EU has amassed more environmental law than any other part of the world.