Hundreds of Manx shearwater birds stranded on Newgale beach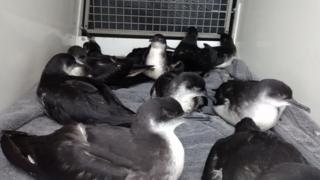 Hundreds of Manx shearwater seabirds have been stranded on a Pembrokeshire beach after being blown ashore by high winds.
The birds breed on nearby Skomer Island and migrate to Argentina in September, but it is thought there was a mass landing on Newgale Beach following stormy weather.
About 144 were saved while a further 100 were found dead.
The RSPCA said the rescue was a "large, challenging and major operation".
Large populations of Manx shearwaters are based in west Wales and the charity said the birds regularly face problems in stormy or windy weather at this time of year.
It said the birds can get blown off course and while they are very able in flight or on water, they can struggle on dry land.
RSPCA chief inspector Romain DeKerckhove praised the efforts of its officers and volunteers who worked "tirelessly" to help save the birds.
"Sadly, somewhere in the region of 100 birds were either found dead, or had to be put to sleep to prevent further suffering, but today's rescue efforts mean a huge number of Manx shearwaters will now be rehabilitated, and hopefully soon returned to where they belong," he said.
The rescued birds will now be cared for by the RSPCA.
On Thursday, a Manx shearwater was found in the middle of a road in Aberystwyth. It had been disorientated by high winds and was taken to Gower Bird Hospital for rehabilitation before an anticipated release back to the wild.
The charity warned members of the public to be careful when they see stranded birds as they have sharp beaks.