'Tree of the Year' competition shortlist announced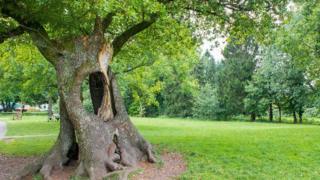 Six trees from across Wales are to battle it out for a conservation award.
The Woodland Trust drew up the shortlist following nominations from the public. It includes a hollow oak tree in Neath and a 'fairy house' hazel in the grounds of an Anglesey school.
The winner will represent the UK in the 2018 European Tree of the Year contest.
The conservation charity said the trees had "truly inspirational stories", which "highlight how intrinsic trees are in people's lives".
The fairy house tree, Treffos Independent School, Llansadwrn, Anglesey
A favourite for den building, this hazel tree is used by schoolchildren while they play in the woods and forage for nearby acorns, conkers and pine cones.
The bleeding yew, St Brynach's Church, Nevern, Pembrokeshire
The ancient yew tree is believed to be around 600 years old and exudes a sticky, red, blood-like fluid. Local legend says the tree weeps for the crucifixion of Christ but an alternative explanation is rainwater becomes stained red by the tree's heartwood and runs from the tree.
The pulpit yew, Nantglyn, Denbighshire
The hollowed-out trunk of this yew tree, believed to be around 1,500 years old, has been converted into an outdoor pulpit using local Welsh slate. Many sermons have been preached from here, including, rumour has it, one by the founder of the Methodist Church, John Wesley.
The hollow tree, Gnoll Country Park, Neath Port Talbot
This ancient oak tree has been completely hollow since at least the 1950s and has provided a hiding place for generations of children. The tree has managed to survive in this condition and each summer produces a full and healthy crop of leaves and acorns. It has recently been fitted with bars to support the structure.
The giant redwood of Llangattock, Powys
This towering giant redwood, which stands on the banks of the Monmouth and Brecon Canal, attracts visitors who picnic under its boughs. Giant redwoods were introduced into the UK from California in the 1850s.
The Bodnant coast redwood, Bodnant Gardens, Conwy
This coast redwood was planted in 1887 by the garden's founder Henry Pochin. It is more than 50m (164 ft) high and could double its size in the next 200 years.