Mark Aizlewood and others deny 'ghost learner' football scam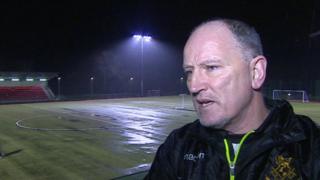 Former professional footballers invented "ghost learners" to steal £5m of public cash intended to train apprentices, a court has heard.
Mark Aizlewood, 57, who won 39 caps for Wales and former Cardiff City and Middlesbrough player Paul Sugrue, 56, deny two counts of conspiracy to commit false representation.
Fellow director Keith Williams, 45, from Anglesey, denies the same charges.
At Southwark Crown Court, Jack Harper, 30, of Merseyside, denies three counts.
Mr Harper, who began working with Luis Michael Training Ltd - set up by the other three defendants and a fourth man - in December 2009 denies one charge of conspiracy to commit false representation, an additional count of fraud and one of using a false instrument.
The charges against Mr Aizlewood, from Aberdare, Rhondda Cynon Taff, Mr Sugrue, from Cardiff, and Mr Williams relate to a period between 2009 and 2011.
It is claimed that was when company officials approached colleges to enrol youngsters on to a football-based apprenticeship scheme.
However, it is alleged fake accounts were submitted to encourage colleges to do business with the firm.
The court heard for every apprentice enrolled, the defendants claimed money provided by the UK government.
However, some of the individuals did not exist or received just a few hours training a week instead of the promised 20 hours.
Prosecutor Alexandra Healey said they even got children on work experience to complete tests, reviews and comments that should have been done by learners and employers.
She said the total amount fraudulently received was about £5m, coming from the Skills Funding Agency (SFA) through the colleges.
Apprentices had to be employed and receive a salary and training, sit exams and submit a portfolio.
But Ms Healey said: "A number of the learners that were enrolled, were in fact what are called 'ghost learners'.
"They didn't exist, or didn't know their names were being used to claim public funding, or people were getting qualifications in their name.
"Of those learners who did exist, the majority of them weren't employed."
A fourth director of Luis Michael Training Ltd, Christopher Martin, 53, of Catmore, West Berkshire, has admitted two charges of conspiracy to commit fraud.
A sixth man, Stephen Gooding, 53, from Bridgwater, Somerset, has also admitted one similar charge.