Violence risk warnings for ambulance crews rise sharply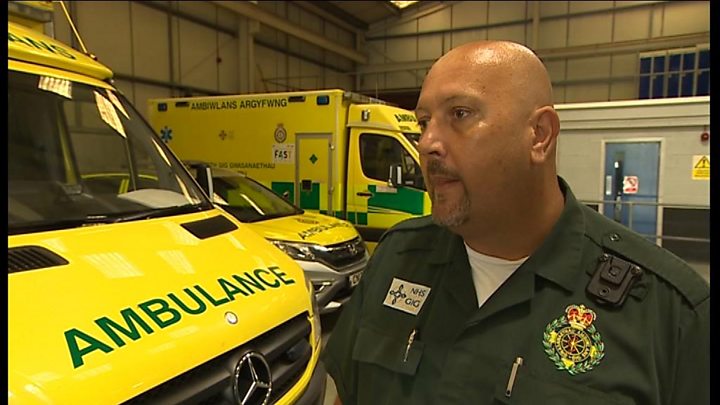 The number of warnings for ambulance crews about people who could be violent or pose a risk has increased nearly ninefold in 18 months.
Welsh Ambulance Service had 434 people or addresses listed as potentially violent or a risk to crew safety in July, up from 50 in January 2016.
It may mean a request for police support if a 999 call is made for an ambulance crew at a specific address.
The ambulance service said crew safety was "a significant priority".
In 2016, the ambulance service had 27 red flags for potential crew risks and 23 for potentially violent people - by July 2017, this had risen to 320 and 114 respectively.
Details about people or addresses are added to the warning alerts so control room staff can pass it to the crew that is attending.
This information is reviewed regularly so an address will not stay on this warning system indefinitely.
The ambulance service said the figures were "constantly evolving, with new addresses being added and removed daily as they expire or change".
Paramedics are also trained in what is called a "dynamic risk assessment" to assess whether they need police support upon their arrival.
Dean Caldwell, an emergency medical technician based in Barry, Vale of Glamorgan, was attacked in 2015 while responding to a call about an unconscious man in Cardiff.
He and his colleague put the man into a chair to get him into the ambulance when he was attacked.
"He started getting irate, started lashing out and punched me in the face," he said.
"It shocks you for an instant then all of a sudden you get back into the mode of why you're there - although he's assaulted you, you still have a duty of care to the patient.
"We don't expect to go out to do this job and respond to these calls and be abused or assaulted in any way at all."
Mr Caldwell said as well as the physical pain of being assaulted, attacks take crews off the road as they get medical attention and have to report the assault and fill in the necessary paperwork.