South Wales £38m semiconductors tech cluster deal signed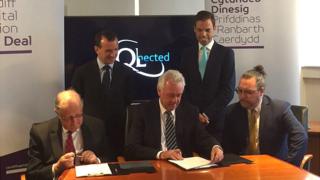 A £38m deal to develop firms in south Wales working on technology behind next generation robotics, 5G and driverless cars has been signed.
The region is aiming to become Europe's major cluster for firms developing compound semiconductors.
It aims to attract £375m private investment and create up to 2,000 jobs.
Economy Secretary Ken Skates said it "further cements Wales as a world leader in this state of the art technology".
Compound semiconductors are the next advance from the silicon chip and conventional semiconductor technology.
They can process things far faster than silicon and can be far more sensitive and versatile.
As well as next generation smart phones, the technology can be used in controlling energy efficiency, airport security and the "internet of things".
There are already four semiconductor clusters across Europe but the south Wales group aims to be a world first for these types of compound materials.
It is the first investment under the £1.2bn Cardiff Capital Region city deal programme.
The 10 councils in south east Wales will be investing in and will own the "anchor" foundry in Newport.
This will be refurbished at a cost of £8m with £30m needed to kit it out.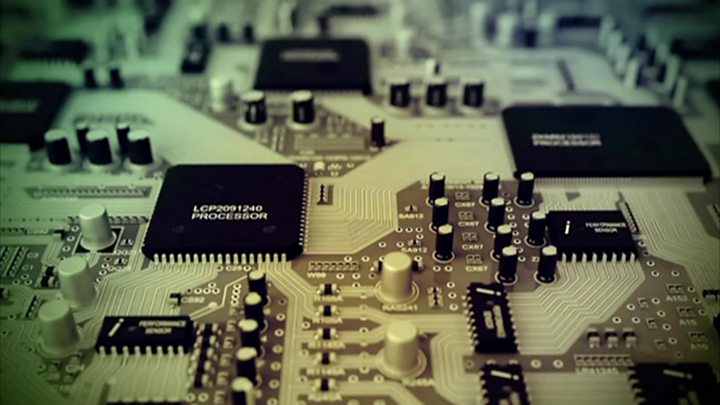 St Mellons-based IQE plc will take over the lease to produce compound semiconductors and applications. The tie-up already includes scientists at Cardiff University.
The UK government has provided £50m towards the overall project and the signing ceremony at IQE was attended by Welsh Secretary Alun Cairns.
Mr Skates was there on behalf of the Welsh Government, which has invested another £12m.
Beyond the immediate Newport and Cardiff area, there is the hope it will open the door to other hi-tech firms setting up in other parts of the region.
Sarah's analysis
The semiconductors from Newport will not be an end-product in themselves but are expected to form an important part of a massive range of technologies, products and capabilities that we cannot even yet imagine.
They will enable even more efficient use of energy, for robotics to play a larger part in our lives, and for technologies to more easily connect or "talk" with each other.
It is ironic the foundry will be set up in the building in which semiconductors were to be made for LG but which failed in the wake of the Asian financial crisis.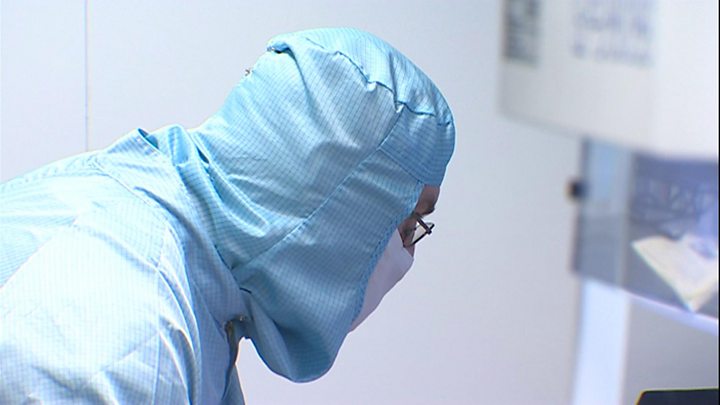 But this is a very different proposition. That does not mean that all will be plain sailing; the global economy is particularly unpredictable now. But in the way Welsh coal powered industry across the world a century ago, so it is hoped this new generation foundry will produce semiconductors which will power global technological change.
If that works it could lift the whole Welsh economy.
The challenge is for Wales to create the kind of innovative environment that enables a real cluster to develop and other allied businesses to grow. Without that there is the danger that, once again, hopes could be dashed.
Bob Greenland, deputy leader of Monmouthshire council and one of the 10 directors of CSC Foundry Ltd, said it would also offer opportunities for school leavers leading to £50,000-a-year jobs.
Councillor Peter Fox, deputy chairman of the city deal's cabinet, said: "It has the potential to place our region at the heart of this cutting edge sector and will require the development and integration of a compound semiconductor supply chain in south Wales, with the economic and social benefits that will bring."
Mr Cairns said it could be a "catalyst" to get scientists, engineers, designers and entrepreneurs together.
"I look forward to seeing the cluster take shape and create a lasting engineering and manufacturing legacy in Wales."
Mr Skates said: "We are punching well above our weight in developing technology which, not only plays an increasingly vital role in the way we live our lives today, but will drive innovation which will shape the world we live in tomorrow."