Chlamydia tests 'should be free online' in Wales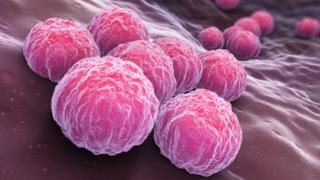 Tests and treatment for chlamydia in Wales should be available for free online, a sexual health expert has said.
More than 58,000 people were tested for the infection in 2015, recently published figures show, of which 5,575 were positive.
Online testing kits and treatment can each cost about £25 but are free by visiting a GP or sexual health clinic.
The Welsh Government said a review was being held into sexual health services.
"The issue in Wales is access to testing," said Dr Olwen Williams, a consultant genito-urinary physician at Wrexham Maelor Hospital.
"At the moment there's no access to online testing free of charge in Wales.
"We want the Welsh Government to fund a system where everyone can access an online kit.
"They can put their postcode in, answer some screening questions and then get a bona fide test to take and send it back."
Chlamydia made up almost half of the 11,657 sexually transmitted infections (STIs) in 2015, according to the latest figures outlined in Public Health Wales' STI trends surveillance report.
While the number of positive diagnoses are at the highest level, according to records dating back to 2007, testing has also increased.
About 70% of all positive cases involved people aged between 15 and 24, while for all ages, females have outnumbered males since 2012.
Wider access to treatment, it is argued, will encourage more people to get tested and treated to help stop the infection spreading.
Dr Williams, one of the report's authors, said a free service was available in parts of England.
Jo Hinchliffe, a project officer in north Wales for sexual health charity FPA, said: "Easy access to online chlamydia testing and treatment services can help increase the uptake of testing, particularly among people who may be less likely to attend a clinic.
"Online tests offer choice and should be seen as complementing, rather than replacing, traditional sexual health services."
Public Health Wales is carrying out a review of the sexual health service in Wales, commissioned by the Welsh Government which said the results were expected in early 2018.
Chlamydia facts
A bacterial infection which often has no symptoms
Can affect anyone who has had unprotected sex or oral sex
1 in 10 young people who are sexually active are thought to have it
Tests usually involve giving a urine sample or taking a swab
Treated with antibiotics
If left untreated it can affect fertility in men and women