National Museum Wales should 'charge for special shows'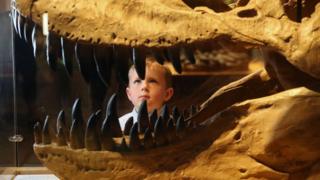 National Museum Wales should charge for special exhibitions and appoint a commercial director to increase income, a review has found.
Dr Simon Thurley examined the museum's operations for the Welsh Government.
His report recommended the museum "introduce appropriate charging regimes".
It also urged managers to "urgently" rebuild trust with staff and unions following a long-running industrial dispute.
The review was commissioned by Economy Secretary Ken Skates to look at the museum's success, resilience and sustainability.
NMW has already begun charging for some exhibitions, including a display of Indiana Jones film props and a dinosaur exhibition at its Cardiff galleries.
Entrance charges across its seven sites in Wales were scrapped in April 2001.
KEY RECOMMENDATIONS
Regularly charge for special exhibitions
Appoint a commercial director to boost income
Urgently rebuild trust with staff following industrial dispute
Dr Thurley's recommendations urge the Welsh Government to give greater commercial freedoms to NMW, which receives an annual grant from ministers of £21.8m.
He calls on NMW's trustees to review the skills of the museum's management team, and to appoint a commercial director "at a salary that will attract a person of high calibre and wide experience of visitor attractions."
Despite an increase in its grant in 2017/18, the museum has previously faced cuts to its budget by Welsh Government which contributed to staff redundancies and a prolonged industrial dispute with some of its lowest-paid workers.
Strikes by staff since 2014 over changes to payments made for weekend working had led to the ad-hoc closure of its sites until the dispute was resolved in June 2016.
Dr Thurley, who is a former chief executive of English Heritage, called on NMW's board and the Welsh Government to "urgently invest in supporting the senior management team in a programme of rebuilding trust with the staff and unions".
'Improvements'
The dispute, and cuts to NMW's budget, also strained the relationship between museum managers and the Welsh government. Dr Thurley called on both sides to "acknowledge and understand the causes of current frustrations".
He also said the parties should develop a 10-year vision for the museum, with a five-year focus and a three-year funding agreement, and that the museum should take steps "to give Welsh Government confidence in its capability to deliver the strategy."
Dr Thurley recommends the museum receives additional funding to help transition to a new resilient business model.
Mr Skates said he was "absolutely committed to enabling our heritage institutions to maximise the economic benefits that they bring to the people of Wales."
The review's recommendations were welcomed by NMW's director general, David Anderson, who said: "We recognise the need to make improvements in certain areas of our work including income generation and industrial relations, and Dr Thurley's observations and recommendations provide a helpful framework to help us address these."