Far-right threat must be tackled alongside Islamist terror, says MP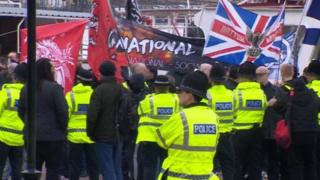 The threat of right wing extremism must be tackled to stop the UK becoming polarised, a former counter-terrorism and security minister has said.
Delyn MP David Hanson said far-right groups had to be dealt with alongside the threat of Islamist extremists.
It followed the arrest on Tuesday of five people on suspicion of being members of a banned neo-Nazi group.
Campaigners said they were dealing with more incidents of hate crimes towards people from ethnic minorities.
Labour MP Mr Hanson said he had persistently raised the need to tackle right-wing extremism with the UK government since a neo-Nazi attack in Mold, Flintshire.
In 2015, Zac Davies was jailed for life for attempting to behead a shopper in a racially-motivated revenge attack for the murder of Fusilier Lee Rigby.
Mr Hanson, a former crime and policing minister under the Labour government, said tackling far right extremism was crucial due to the threat of online radicalisation.
"[There is] a need to focus not just on Islamic extremism, which is absolutely important to do so, but also to look and make sure we are examining right wing, far right extremism, because the last thing we want in this country is to have a polarised position where we have both Islamic terrorism and right wing extremist terrorism," Mr Hanson told the BBC.
His comments came after four serving members of the Army were arrested under anti-terror laws on suspicion of being members of banned neo-Nazi group National Action. A fifth person - a civilian - has also been arrested on the same charge.
Police said they were a 22-year-old from Birmingham, a 32-year-old from Powys, a 24-year-old from Ipswich and a 24-year-old from Northampton. The other person was detained by the Royal Military Police in Cyprus.
National Action is a proscribed organisation and being a member - or inviting support for it - is a criminal offence carrying a sentence of up to 10 years in prison.
Mr Hanson said National Action's activities had been "beyond the pale", adding they had "actively provoked and promoted incidents of terrorism".
He added: "We are a civilised society we cannot tolerate terrorism, whether it comes from Islamic extremists or far right extremists, and the government is right to take action on both."
South Wales' Police and Crime Commissioner Alun Michael, the former first minister, told BBC Radio Cymru that extremism needed to be tackled on a local level in Wales.
He said: "There is a connection between the information which comes from the police working in the communities and extremism - which is a national problem."
Rocio Cifuentes, director of Ethnic Youth Support Team in Swansea - a body set up to help black and ethnic minority youngsters - told BBC 5Live that young people needed to be educated to stop far right groups gaining in strength.
She said her charity had been dealing with an increase in hate crime against young people from ethnic minority communities.
In Swansea, the EYST is running a project to tackle far right propaganda and views among young people.
The Think project works with youngsters, some of whom are referred by police for views expressed, and also tries to counter Islamophobia more widely by talking to groups of young people.
As part of its work, it took 15 and 16-year-olds to visit a mosque in Swansea.
One of those was Amber who said she had since deleted friends on Facebook who had been sharing far-right and extremist views.
"When you are seeing all that in your newsfeed, social media is such a big thing for everyone our age, if it is constantly around us, you are seeing all these graphic things and you do start to believe it even if you've got your own views," she said.