Welsh Government-backed Shakespeare drama cancelled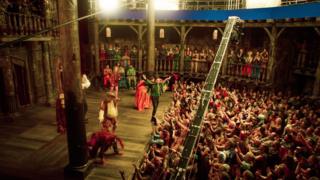 A US TV series based on the life of William Shakespeare which received government aid and was filmed near Bridgend has been cancelled.
Turner Broadcsting said there would not be a second series of Will, which ran on its cable channel TNT.
The Welsh Government has refused to say how much support it gave, but predicted an £18m boost to the local economy.
The Conservatives said the claim was "unsubstantiated" and accused ministers of a "wearisome lack of transparency".
Work to dismantle sets has been taking place at the Dragon Studios site.
Will, which started production last year and began airing on TNT in July, focused on the earlier years of the young playwright.
It was based at Dragon with location shooting taking place around south Wales and London.
Its final episode aired on Monday.
The series had been billed as the biggest budget US TV production ever shot in Wales, with a set that included a replica of the Globe theatre.
The Welsh Government told BBC Wales that the production had received grant funding, but that the amount could not be disclosed due to commercial sensitivities.
Grant terms required the production spend a certain proportion of its budget in Wales on a Welsh crew, goods and services.
The government said the production had "over-achieved on the projected Welsh spend figure" but that final figures were yet to be confirmed.
'Significant impact'
Commenting on the end of production, a spokeswoman for the Welsh Government said: "While this is disappointing we acknowledge and accept the nature of TV series and that they can be cancelled at any point in their run.
"The reasons for cancelling could be numerous; for example it could be due to viewing figures, a lack of international sales or a loss of interest from key creatives."
The spokeswoman claimed that the production had had a "significant impact" on the Welsh creative industries sector and that it was "anticipated the production will have generated £18m spend into the local economy".
"We have also built a very good and useful relationship with TNT Productions, who are prolific in TV and film production, and there is every possibility that they will bring another production to Wales," she added.
Welsh Conservative culture spokeswoman Suzy Davies said it was a shame that a second series had not been commissioned.
But she added: "In what has now become a wearisome lack of transparency, we once again find ourselves faced with unsubstantiated claims by Welsh Government about how much money its investment in a creative industry project has brought to the local economy.
"The Welsh Government cannot hide behind commercial confidentiality - it should disclose the figure and the exact terms of the grant, just as has done previously with Screen Wales support."
The Welsh Government has been asked to respond to Ms Davies's comments.