Commonwealth Games: Baton Relay continues in Wales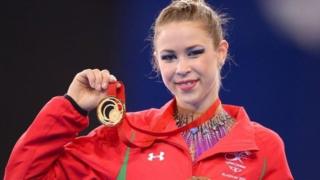 Sporting stars, an opera singer and a Doctor Who actor will be among the 2018 Commonwealth Games Queen's Baton Relay runners during its second day in Wales.
Gareth David-Lloyd, who played Ianto Jones in Doctor Who and Torchwood, began Wednesday's leg, that started in Newport and ends in Pontypridd.
Former Welsh rugby international John Bevan will carry the baton in Monmouth.
Gymnast Frankie Jones will carry it to The Royal Mint in Llantrisant and singer Wynne Evans will finish the leg.
The baton arrived in Swansea on Tuesday and will cover 350 miles (563km) around Wales, where more than 130 people will help carry it.
It will cover 200,000 miles (321,868km) in total before arriving in Australia's Gold Coast for the games in April.
The Gold Coast Baton will meet the very first Queen's Baton, which started life in Wales as the prelude to the British Empire and Commonwealth Games in Cardiff in 1958, at Monmouth School.
The baton relay started at Newport's Coronation Park on Wednesday and travelled to Monmouth School, where the 1958 baton will be on display.
On the first day in Wales, former Welsh rugby captain Ryan Jones, Swansea City footballer Leon Britton and BBC Wales' Lucy Owen carried the baton through the streets.