Operation Pallial sex abuse victims' 'lack aftercare'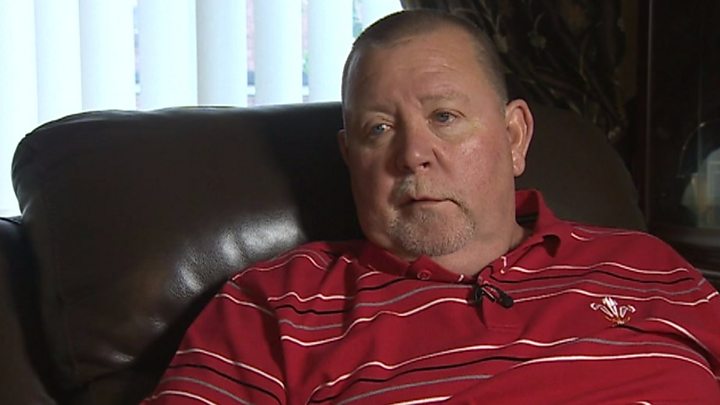 A man who gave evidence to a historical child abuse investigation has criticised the "lack of aftercare" for victims.
Operation Pallial began inquiries into allegations of abuse in the north Wales care system five years ago.
Keith Gregory said he was one of the first people to speak but was left to "fend for himself" afterwards.
The Home Office said it had funded specially-trained officers to provide victim support.
Waiving his right to anonymity, Mr Gregory previously told the BBC he was sexually, physically and mentally abused while at Bryn Estyn home in Wrexham.
He had previously encouraged victims to speak out.
But speaking to BBC Wales' Newyddion 9 programme on Monday, he said many people are worse off after speaking to the police.
"You're opening this can of worms," he said.
"You'll be there for about three or four hours doing an interview and then it's a case of 'bye'.
"For years I've been asking people 'please, come forward' and now if someone came to me and said 'what would you do?', I'd definitely say 'don't go forward'."
Newyddion 9 also spoke to two other victims who came forward to Operation Pallial and who are unhappy with the aftercare.
Mr Gregory used to run a support group for victims but is now calling on the Welsh Government to fund a dedicated service for people who were abused as children.
"The Welsh Assembly know there's a massive problem with survivors of abuse and to be honest, people don't want tablets. They want to get on with their lives," he said.
A Welsh Government spokesman said while the majority of support for victims of child abuse is funded by the Ministry of Justice, it provides funding to a number of organisations and local authorities.
Pallial legacy
The Home Office said it had provided more than £5m of funding to North Wales Police for Operation Pallial, which includes specially-trained officers who provide victim support from when a crime is reported to when the case concludes.
A spokesman said: "Victims should feel able to come forward to report abuse and get the support they need.
"We are also providing £7m funding for organisations supporting victims and survivors of sexual abuse, including child sexual abuse."
Officers at Operation Pallial's victim support programme said they have spoken to all the 359 complainants who came forward by June 2017, claiming the vast majority were happy with the service.
The programme is run by Conwy council on behalf of all county councils in north Wales and Betsi Cadwaladr University Health Board, and led by Jennie Williams, director of social services at Conwy council.
She said: "It's a very individual service and it's very difficult to get right.
"I'm not saying we've got it perfect. But this is why we're looking to develop these services in north Wales and not just focus on Pallial, but the legacy of Pallial and the wider cohort and the wider public in north Wales."
Ms Williams added: "We're starting from a better place than we were in north Wales but with a definite view to invest and improve the service."